Victim Of Plateau STF Brutality Cries Out; As Community Clamours For Intervention
Crime Watch, Featured, Latest News, News, News From The State
Tuesday, September 16th, 2014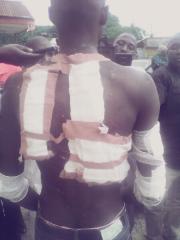 Agabus Pwanagba, Jos
A 29 years old young man, Solomon Gyang and resident of Foron District of Barkin Ladi Local Government area of Plateau State narrowly escaped death in the hands of Special Task Force (STF) responsible for restoring of peace to the State.
Gyang narrated his ordeal to journalists on Tuesday, after being released from Sector 7 of the STF after about three weeks of hostage.
According to him, it took the grace of God, otherwise, he would have been killed.
Solomon who narrated he received severe beatings, appeared with injuries, bandages with cotton wools and blood stains all over his body. He indicated he was beaten to coma and was tied atop of tree every night .
"On the August 10, 2014 at about 12:56pm in Bisichi market, I received a call that my baby is in the hospital and on my way there my younger brother called me that my attention was needed at home. When I got home, I was told that some army personnel came in search of their missing gun and I was traced to be among those who have a hand in it. I traveled to Abuja to escape but when I came returned, the soldiers traced me at home and arrested me with two others; they attempted killing us before the heavy rainfall that lasted for several hours, which saved us.
"My head was covered with a black cloth to be taken for execution in an unknown destination" Gyang revealed.
Gyang who said he was a welder at a building materials market along Bukuru express way ,Jos, but lives with his family in Bisichi, a boundary village between South Jos and Barkin Local Governments.
"Out of the three of us that were alleged to have taken the gun, it was only me that became the target and I was taken to Barkin Ladi headquarters of Sector 7, one of the soldiers lost his gun, as we arrived, they order me to start frog jump.
"They asked me where about of the gun, but to God who made me I don't have hand in it and I don't know anything about the gun", narrated the accused.
Reacting to the incident, the Foron Village Head, Mr. Markus Dapam admitted the incident occurred early August this year, adding that the STF refused to release the suspected boys after many pleads from the community leaders.
"The soldiers restricted the community from visiting the place by warning us to stay away ,we pleaded with the district head of Fan and Foron who went and complained at the STF headquarters yet nothing was done about it" Dapram stated.
He however appealed to both Federal and State governments to assist them with further investigations into the matter .
Dapam lamented indiscriminate arrest of members in his community by the STF men deployed to the area.
"The gun was said to be missing inside the market and we were surprised that our youth were been arrested and tortured like animals.
Efforts by AFRICAN EXAMINER to speak with the STF Spokesman proved abortive as he could not be reached on phone.
Short URL: https://www.africanexaminer.com/?p=17511