We Have Arrested Masterminds of Nyanya's Bombings -Jonathan
Featured, Latest News, News
Friday, May 9th, 2014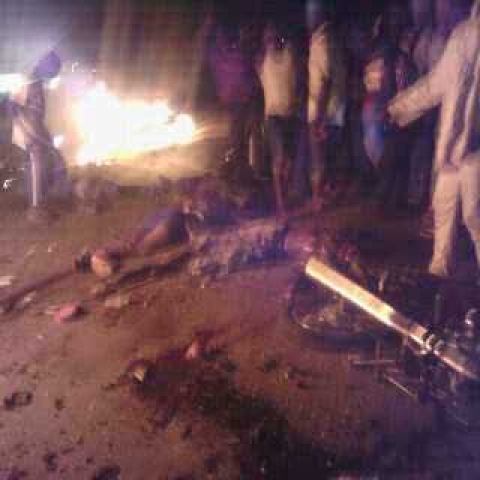 Jacob Oyewale, Abuja
The security agencies have arrested the culprits of two bomb explosion in Nyanya that claimed 84lives in April.
President Goodluck Jonathan announced this on Friday while addressing a world press conference at the end of the three-day World Economic Forum for Africa held in Abuja.
"We have arrested most of those who were responsible for the recent bomb explosion in Nyanya, a satellite town of Abuja, only one of them is on the run. I am sure we will get him.
"Terrorists must know that if they commit any crime, they will surely pay for their crime. Our government will not allow them to get away with it." He added
President Goodluck Jonathan however admitted that he no longer sleep with his two eyes closed since the April 14 abduction of the schoolgirls from Government Girls Secondary School, Chibok, Borno State, adding that the situation will remain so until the girls regain their freedom.
He expressed the belief that the over 200 schoolgirls were still being kept within Nigeria by the Boko Haram sect, noting that they may still be holed up inside Sambisa Forest.
President denied media reports that the nation's security agencies were slow in responding to the abduction.
According to him, "There is no slow response at all, no no. It is a misconception. The response is not slow. I have explained this. Borno State can be described as the headquarters of the terrorists, Boko Haram, they are more in Borno State, then followed by Yobe and then Adamawa.
"Immediately this happened, they have been following it – both the Army and the Air Force, they have been combing."
The only thing we did not do because we felt it was not necessary then was to video the aircraft moving, the military people moving and the fighter helicopters."
"We did not do the video to show because the people were on ground because of the state of emergency because of these terrorists. That is why people thought it was slow, no it was not.
"We started work immediately. It was not slow the Nigerian government responded immediately. If somebody gives you the impression that government is slow, that is not correct."
Short URL: https://www.africanexaminer.com/?p=11121