Why I Stopped Dating Alexx Ekubo – Fancy Achonolu
Entertainment, Latest News
Friday, January 6th, 2023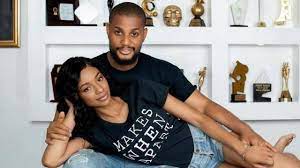 (AFRICAN EXAMINER) – Fancy Acholonu, the former lover to popular Nigerian actor, Alexx Ekubo, has finally opened up on why she stopped dating the Nollywood star.
African Examiner recalls that Acholonu has been in the news after she apologised to the actor in December for cancelling their wedding in 2021.
She, however, made many Nigerians wonder why she ended her five-year relationship with Ekubo.
However, in a recent interview, Achonolu stated that she parted ways with the actor for "several reasons" as she described him as "extremely narcissistic".
She also stated that the actor became "more controlling and verbally abusive" after their engagement.
"I had several reasons why I broke up with him. Alexx is extremely narcissistic. The charming personality he shows to everyone was not who he was to me. Behind those smiles of our happy photos he was always lying, cheating, and gaslighting me," she said.
"The day after we got engaged, it became worse. He then became more controlling, and verbally abusive. We argued so much and it was close to becoming physical, I was scared of his rage. I told my sister and documented for record sake in case anything happened. I can't begin to give details of everything that went wrong for me to call it off."
She also stated that the "major red flag" that made her terminate the relationship was when he stopped having sex with her and enjoined her to get sexual satisfaction from other men.
"But one major red flag that made me devastated was that he told me he won't sleep with me but I should go and sleep with other men. Imagine telling that to your fiancée that has kept herself for you for five years," she added.
"At that moment I realized he didn't truly love me. It started going down hill from there. Emotional abuse."
Short URL: https://www.africanexaminer.com/?p=84290