Wike, Ikpeazu Will Support Tinubu In Presidential Election, Says Orji Kalu
Featured, Latest News, News Across Nigeria
Tuesday, February 21st, 2023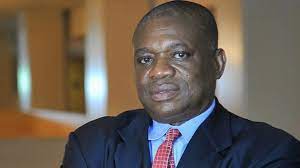 (AFRICAN EXAMINER) – The Senate Chief Whip, Orji Kalu, has said some aggrieved Peoples Democratic Party (PDP) governors that make up the G5 or Integrity Group will support the All Progressives Congress (APC) presidential candidate, Bola Tinubu, in Saturday's election.
Specifically, Governor Nyesom Wike of Rivers State and his counterpart of Enugu State, Okezie Ikpeazu, will throw their weight behind the former Lagos governor, Kalu said .
The G5, which includes Wike, Ikpeazu and three other state governors, have taken a stand to abstain from supporting the PDP presidential candidate, Atiku Abubakar.
According to him, the general public need not be concerned about the internal wranglings in the APC over the naira swap policy of the Central Bank of Nigeria (CBN).
"Tinubu is well liked by the North and is from the South-West and is going to get a [sizable] vote in Imo, Ebonyi, Abia, Anambra and Enugu. And he's going to have the support of Governor Wike of Rivers State, so we're on track," he said.
"My governor here, Okezie Ikepazu, will also support Tinubu. My senatorial district is going to give Tinubu the vote. The puncher to give the 34, 35 percent to be on the ballot."
Promising that Tinubu would be "a man of tomorrow", the former Abia governor added that "the G5 governors are also going to be a very big factor".
The senator representing Abia North predicted that the South-East would vote for the APC presidential candidate because, according to him, the voters know his presidency will serve as a stepping stone a free market.
In his view, there is no cause for concern over the party's internal crisis as he encouraged the members of the electorate to vote according to their conscious.
Describing Tinubu as a good administrator, he said the candidate could "delegate the job".
"He's a relief to the headquarters of the entrepreneurs where I live in Lagos," he said. "All the presidential candidates live in Lagos; we all live there and we're businessmen there, and Tinubu lived in the middle of the entrepreneurs of Nigeria."
Kalu promised that his APC presidential candidate would ensure the formulation of a partnership between the private sector and the government, "which is very much not seen today".
The 21 or 22 governors of APC are ready to support Tinubu; they brought him in at the convention. There was a ballot; Tinubu didn't come from the back of the yard to be the presidential candidate of the APC.
Short URL: https://www.africanexaminer.com/?p=85460