"Withdrawal Of Customs, Immigration Personnel From Border Posts Is Alarming"
Latest News, News
Tuesday, February 17th, 2015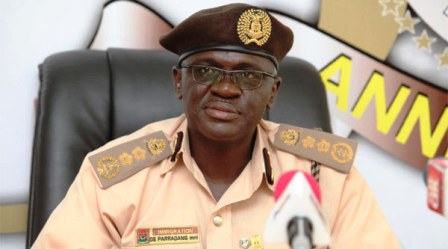 Ayo Balogun, Lagos – The opposition All Progressives Congress (APC) has raised the alarm over a strange directive ordering the withdrawal of Customs, Immigration and other security personnel from the country's border posts in Kebbi and Katsina States wondering what purpose such a directive was meant to serve.
The party's National Publicity Secretary, Alhaji Lai Mohammed, in a statement issued Monday, in Lagos said the verbal directive led to the total withdrawal of the stated personnel from the border posts in the two states, leaving the posts unmanned.
APC said it wondered who gave the order and for what purpose as well as asked the Federal Government to immediately tell Nigerians what happened.
"It will not be enough for the government to tell Nigerians that it is not aware of such a development, because that will be more egregious than what happened in the first instance, and will amount to the government not being able to secure the country's borders.
"It is also necessary to tell Nigerians how many states were affected by such orders. We were only made aware of two, but there is the possibility that the directive could have been more widespread," APC said.
The opposition said with no one left to man the borders in the affected areas for as long as the directive lasted, which was yet to be determined, anything could have happened.
"Who gave the verbal order? Was the order given verbally so that there will be no evidence of it? Were the Customs, Immigration and other security personnel ordered away to allow the free entry of contraband goods, election materials, weapons, terrorists or what?
"Even with our borders manned, Boko Haram terrorists have been marauding freely along the border areas. Will this illegal order not worsen the security situation, at a time the government is giving Nigerians the assurance that it will deal Boko Haram a mortal blow within six weeks?" it queried.
APC said the development, coming a day after leaflets were distributed in Gombe which asked people to stay away from polling booths on election days, raised more fears over the ongoing scheming by the Jonathan Administration and the PDP to ensure the rescheduled elections do not hold.
"In pursuit of this objective, these band of desperate people will do anything, including threatening the very existence of the country. Nigerians must not allow them," the party demanded.
Short URL: https://www.africanexaminer.com/?p=22263