Withdrawal Of Tambuwal's Security Aides Illegal, Barbaric -Right Group
Featured, Latest News, Politics
Thursday, October 30th, 2014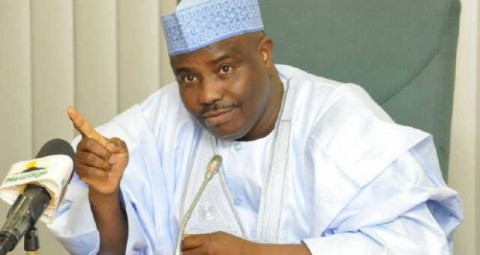 The Centre for Rights and Grassroots Initiative (CRGI) has described as illegal and barbaric the withdrawal of security details to the Speaker of the House of Representatives, Aminu Tambuwal by the Inspector General of Police (IGP).
The CRGI said its attention has been drawn to a statement circulating in the media as issued by the office of the Force Public Relations Officer of the Nigeria Police to the effect that the Nigeria Police have withdrawn security personnel attached to Right Honourable Aminu W. Tambuwal, CFR, the Speaker of the Federal House of Representatives.
"We at CRGI regard this statement and action as ridiculous, barbaric, crude, subversive, insultive, despicable, irresponsible, provocative, undemocratic, illegal, unconstitutional and a sign post to anarchy.
"This brutal and unconscionable assault on the office of the Speaker of the House of Representatives which is the office of the fourth citizen of Nigeria according to the protocol of the Federal Republic of Nigeria is an affront on our democracy and rule of law," the group said.
According to CRGI, "We regard it as criminal and subversive that the Nigeria Police which is constitutionally empowered to enforce the law can be so brazen to usurp the responsibility of the judiciary which is saddled with the constitutional duty of interpreting the law in a constitutional government. Whereas, it is myopic to assume that police protection is the ultimate protection to life, protection of life including even that of the IGP ultimately lies with God."
The group called for the immediate reinstatement of the withdrawn security personnel as well as tendering of public apology to the office of the speaker for this act of terrorism and despotism by the IGP.
"We are as well demanding that a public apology be tendered to the people of Nigeria for this assault of their democratic rights as undermined by the lawless act of the IGP. We are equally calling for the immediate removal of the IGP for the embarrassment caused to the image of the Nigeria Police in particular and Nigeria in general," it stated.
The police had in its statement said "In view of the recent defection by the Right Honourable Aminu Waziri Tambuwal, CFR, the Speaker of the House of Representatives of the Federal Republic of Nigeria, from the People Democratic Party (PDP) to the All Progressive Congress (APC), and having regard to the clear provision of section 68 (1) of the 1999Constitution of the Federal Republic of Nigeria as amended, the Nigeria Police Force (NPF) has redeployed its personnel attached to his office."
Short URL: https://www.africanexaminer.com/?p=19260