World Cup Final: Messi Says "This Is The Match Of Our Lives"
Featured, Latest News, News
Sunday, July 13th, 2014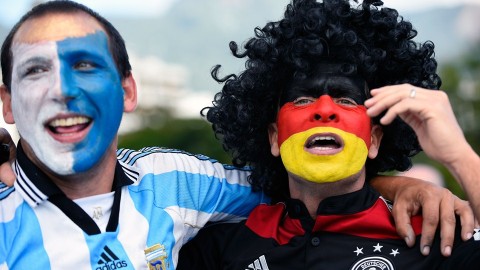 Lionel Messi has sounded a warning to highly-fancied Germany, and issued a stirring rally cry for Argentina, by referring to Sunday's mouth-watering FIFA World Cup final as "the game of our lives".
Rio de Janeiro's famous Maracana is the setting as Messi attempts to emulate his idol Diego Maradona by leading his team to victory against Germany, in front of 73,500 fans and an estimated global television audience of around one billion.
Germany, riding a wave of momentum following their 7-1 demolition of Brazil in the semi-finals, start as favourites to become the first side from Europe ever to win a World Cup in the Americas. But standing in their way is an Argentina side captained by Messi, the four-time World Footballer of the Year who is chasing a place alongside Maradona and Pele as the greatest players to have won the sport's biggest prize.
"Tomorrow, we will play the most important match of our lives for our country," Messi wrote in a rousing message on his official Facebook page. "My dreams and my hopes are being fulfilled due to the hard work and sacrifice of a team that has given everything from match one.
"We knew it was possible. Our people, the Argentines, they have carried us here. But the dream is not over yet. Tomorrow we want to win, and we are ready!" Some 100,000 Argentina fans are estimated to have flooded into Rio to support their team ahead of the final. Argentina's coach Alejandro Sabella said the South Americans will have to produce a perfect game to overcome the talented Germans.
"Germany are always very strong physically and tactically," he said. "For that reason they are the team that has won most titles along with Brazil and Italy. They use the ball very well and play the ball between the lines. They also use the space behind full-backs very well, especially with (Philipp) Lahm. We have to play a perfect match."
Sabella acknowledged the similarities between Sunday's final and the climax to the 1986 tournament, when Maradona led Argentina to a 3-2 victory over West Germany. "It is true there are certain parallels and we hope the situation repeats itself against a very strong opponent," he said.
FIFA.COM
Short URL: https://www.africanexaminer.com/?p=14271