World Leaders Call For Aids To Support Syrian Refugees
Featured, Latest News, World News
Thursday, February 4th, 2016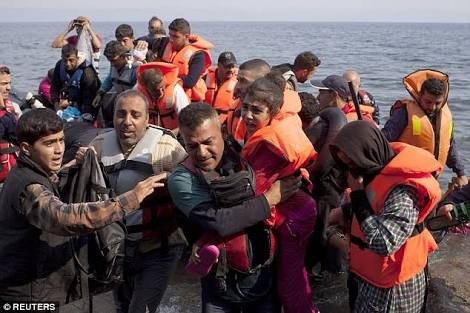 As an urgent intervention and support to it, the world leaders have opened a donor conference in London with an urgent plea for aid to support the refugees from the war-torn Syria.
Already, Germany which is currently playing host to a good number of the refugees, after Turkey, has pledged $2.6bn with UK donating $1.7bn to new refugee aid.
The sum of $9bn being sought is made up of a UN appeal for $7.7 Billion and approximately $1.3bn requested by regional host governments.
UK Prime Minister, David Cameron said: "there is a critical shortfall in life-saving aid".
Still, the aid conference has been somewhat rubbished by the suspension of peace talks in Geneva Wednesday, as well as intense fighting on the ground – Syrian government offensive, backed by Russian air strikes, at the north of Aleppo.
Speaking, the Turkish Prime Minister, Ahmet Davutoglu held that an estimated 70,000 Syrians fleeing the bombing were moving towards the country.
Mr. Cameron and UN Secretary-General Ban Ki-moon advocated for the need to get all Syrian refugee children into education within months.
A total of 60 countries were represented at the conference including 30 world leaders. The forum is the fourth of its kind, with focus on education and jobs for the 4.6 million Syrian refugees in neighbouring countries. Turkey is hosting 2.5 million refugees – the largest number so far.
The United Nations-brokered talks, which opened just two days ago, are expected to resume February 25, according to a UN's special envoy, Staffan de Mistura, at the talks. The Diplomat admitted that there had been a lack of progress but noted that the negotiations had not failed.
The UN Scribe however lamented the talks was "undermined by the continuous lack of sufficient humanitarian access and by a sudden increase of aerial bombings and military activities within Syria".
He therefore urged the warring sides to return to the negotiating table and avoid securing "more gains on the battlefields".
Short URL: https://www.africanexaminer.com/?p=29960