Your Assignment Will Be Challenging, Gov Orji Warns New Commissioners
Abia, Featured, Latest News, News
Wednesday, October 9th, 2013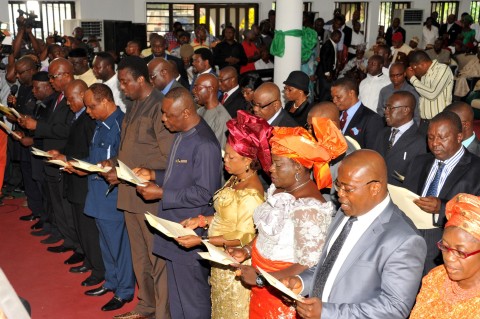 The African Examiner
Abia State Governor, Chief Theodore Orji has urged the newly appointed commissioners in the state to ensure that they provide fresh ideas and a new drive to facilitate the realisation of his administration's legacy projects across the state.
The governor said it is expected that they come up with new insights and impetus aimed at supporting the government in consolidating the legacy projects, building a sustainable foundation of the economy, and moving the politics of Abia State to the next level of humility, justice and harmony as you serve our citizens.
Speaking at the Swearing-in-Ceremony of 24 new Commissioners and members of the state Executive Council on Wednesday in Umuahia, Chief Orji, "Ochedo" as he is popularly called by his people, stated that the government expect them to serve with integrity, devotion, loyalty and accountability, as well as give their best to entire state through their respective portfolios.
"I therefore urge all those sworn-in today to bring with them the desirable winning attitude, ingenuity and deep insight in the handling of your various difficult assignments. These are the only ways you can assist our Government leave a desired legacy of service in Abia State, while also endearing yourselves with our citizens", he said.
He however pointed out that their well-deserved appointments was coming at a time when his administration is under intense pressure of bracing up to many urgent challenges arising from the committed pursuit of the legacy projects, as well as the inevitable pressures of the politics of the future, assuring  that the leadership of the state need not be derailed in its resolve to delivering the dividends of democracy to Abians.
"I want to remind the new Commissioners that your assignment will be especially challenging, as we seek to accomplish most of our projects and other commitments under a disciplined financial regime and urgency, especially as the seasons of expectations of our citizens, active politics and elections fever begin to emerge.
"It is therefore necessary that we face all these challenges with the support and expertise of our best, devoted and loyal citizens, who also fully represent the aspirations and support of our citizens and major stakeholders' throughout the three Senatorial Zones of our State", he added.
The governor congratulated the new cabinet members and their families on their appointment and wished them a very successful tenure. Ochendo also assured Abians that the selection process for the new commissioners was very thorough and intensive.
"We have also been very intensive in selecting the list of men and women that we swear-in today to ensure they meet our criteria of a gender sensitive administration, experience and notable ability to perform under pressure."
Chief Orji equally expressed his gratitude and satisfaction for the successful completion of the exercise. "I know that many of you have waited anxiously for this day, and I am glad that we are finally concluding this exercise, so that we can move forward with members of the Executive Council in addressing the important issues and challenges that face our state", he stressed.
The new Commissioners sworn in to serve in the various portfolios include;  Chief (Sir) Don Ubani, Commissioner for Petroleum, Dr. Kenneth Nwosu, Commissioner for Agriculture, Engr. Emma Nwabuko, Commissioner for Local Government & Chieftaincy Affairs, Dr. Mrs. O. M. Philips, Commissioner for Education, Barr. Emelike Kalu, Commissioner for Public Utilities, Eboh .I. Duke, OKorie, Commissioner for Lands, Engr. Ikechukwu Emesobom, Commissioner for Transport, Hon. K.O. Mgbeahuru, Commissioner for Housing.
Others are, Prince Emeka Nwachukwu (LONGMAN), Commissioner for Works, David Chigbu Monday, Commissioner for Sports, Mrs. Nwogu Chidinma Florence, Commissioner for Science and Technology, Dr. O. S. Ogah, Commissioner for Health, Engr. Solomon Adaelu, Commissioner for Rural Development and Poverty Reduction, Mrs. Ngozi Orji, Commissioner for Youth Development, Dr. Philip Nto, Commissioner for Finance, Mrs. Nne Nwaejike, Commissioner for Women Affairs, Elder Godwin Nna, Commissioner for Physical/Urban Planning.
In addition, Chinwe Nwangaga, Commissioner for Environment, Barr. James Okpara, Commissioner for Legal and Due Process, Barr. Umeh Kalu, Commissioner for Justice, Chisom Nwamuo, Commissioner for Commerce and Industry, Hon. Samson Orji, Commissioner for Special Duties (Governor's Office), Mr. Eze Chikamnayo, Commissioner for Information and Strategy and  Elder Onwuka Uzoma, Commissioner for Culture and Tourism.

Short URL: https://www.africanexaminer.com/?p=2635