FIFA Rejects Suarez's Bite Appeal, Says "He's Not Remorseful"
Latest News, Sports News
Thursday, July 10th, 2014
FIFA has rejected an appeal by Luis Suarez and the Uruguay Football Federation (AUF) against his four-month ban from all football activities for biting an opponent.
The appeal was lodged against the sanctions imposed on the Liverpool striker by FIFA's disciplinary committee for biting Italy's Giorgio Chiellini.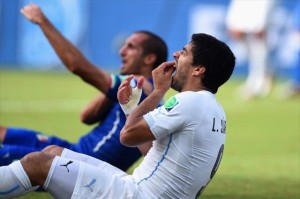 They included a nine-match international ban plus a 100,000 Swiss franc fine.
FIFA head of media Delia Fischer told a news conference that ''The FIFA appeal committee has decided to reject the appeals lodged by both the Uruguayan player Luis Suarez and the Uruguayan FA, and to confirm the decision rendered by the FIFA disciplinary committee on June 25 2014 in its entirety.''
''The terms of the decision taken by the FIFA appeal committee were communicated to the player and the Uruguayan FA Thursday.
Both the player and the AUF can make a further appeal to the Court of Arbitration for Sport.
The disciplinary committee's initial decision took into account there had been no remorse from Suarez, and the fact it was the third time he had been involved in biting an opponent.
After lodging his appeal, Suarez did then issue a formal apology to Chiellini and vowed never to bite anyone again.
Short URL: https://www.africanexaminer.com/?p=14184