Chapecoense Crash: Families, Fans Hold Vigil in Brazil to Mourn Victims
Latest News, Sports News
Wednesday, November 30th, 2016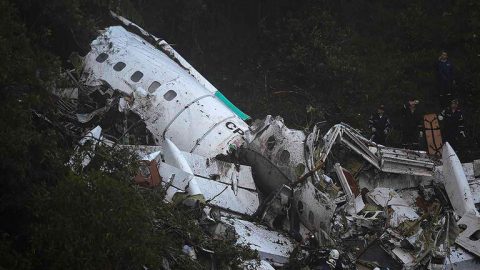 BALTIMORE, MD (AFRICAN EXAMINER) – Thousands of people including relatives, friends and fans of the city's football club – Chapecoense team, who involved in a plane crash, have held a vigil in Chapeco Brazil, to mourn the victims.
Fans of the team walked from the city centre to the stadium where they prayed, sang as well as held a service in the city's cathedral.
While the fans wore the club's green and white colours, sang the names of the players and shouted "champions", the families of the players hugged each other on the pitch.
A fan was quoted as saying: "It is really hard to speak. We always come to the games. We'd come to the stadium and sit right in the same spot''.
There is no yet official confirmation on the cause of the crash, yet, there is unconfirmed reports suggesting electrical fault, while others blamed the accident on short fuel supply.
The flight recorders have since been recovered.
A Crew member Ximena Suarez, who survived the flight, said "the lights went out and I don't remember anything after that".
It would be recalled that the team were flying to Colombia for the biggest match in their history when their plane went down shortly before landing in Medellin, late Monday.
The crash claimed 76 lives, leaving six survivors.
Short URL: https://www.africanexaminer.com/?p=36740