Clamp Down on Brazil's Rough Play-Germany Coach, Low Tells Referee
Featured, Latest News, News, Sports News
Tuesday, July 8th, 2014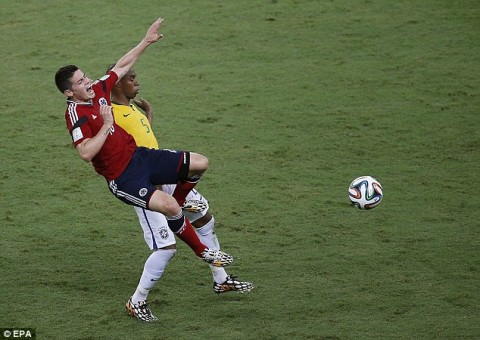 Germany coach Joachim Low piled the pressure on World Cup semi-final referee Marco Rodriguez with an extraordinary attack on the standard of officiating at the World Cup ahead of Germany's semi-final with Brazil.
Germany's controversial coach claimed Brazil's quarter-final victory over Colombia had turned into 'a fight' and went on to say that refereeing standards are better in Europe.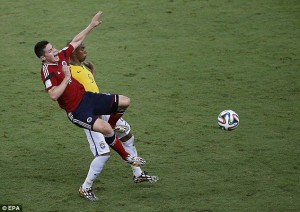 Brazilian forward Neymar has been ruled out of the World Cup with a fractured vertebrae after he was kneed in the back by Colombia defender Juan Zuniga.
Colombia forward James Rodriguez, the World Cup's leading scorer, was deliberately targeted in Fortaleza, and a record 54 fouls at this World Cup were committed by both teams during the stormy clash which was refereed by Spaniard Carlos Velasco Carballo.
Low said: 'Colombia against Brazil was a real fight.
'I hope the referee, Mr Rodriguez from Mexico, will clamp down on things. That physical energy in the match against Colombia went beyond the limits in Europe.
'If that match had been played in Europe, 22 players wouldn't have ended that match. There were brutal fouls. People blocking opponents however they could. It was really exaggerated.
'That's what we saw on the pitch, so I hope these really brutal and crude fouls are stopped, or we won't see players like Messi, Ozil or Neymar, and we'll just see players who go out to destroy.
'This is a World Cup that's full of dynamism and physical force, but I've seen matches where the limits have been surpassed.
Brazil's team doctor Rodrigo Lasmar said Neymar will be out for four-to-six weeks
And Rodriguez is the match official who missed Luis Suarez's bite on Giorgio Chiellini in Uruguay's final group game against Italy.
He is now under massive pressure in front of a worldwide television audience after Low broke ranks to claim the standard of officiating was below that expected in European football.
Germany's head coach added: 'It affected playing time was only 38 or 39 minutes, so there were so many breaks in play.
'I don't think players and fans like the match being constantly stopped. It's not a good match. The players were warned what would earn them a yellow or a red card.
'You saw in the Colombia match many fouls from behind which were really dangerous for the players. There were slide tackles from behind and from the side.
'You have to protect the players when you're a referee. That's something that's important for everyone working in football. You have to protect the attackers.
'They have been aggressed in a very bad way. I don't think it was a good thing that we saw there.'
Brazil's highly-physical approach has been heavily criticised following last Friday's brutal clash with Colombia in Fortaleza.
Although Brazil coach Luiz Felipe Scolari claims his team are playing within the rules, the five-time champions have attracted some unwanted attention ahead of this clash.
Germany defender Jerome Boateng spoke in Belo Horizonte last night and claimed Low's observations were all accurate ahead of this mouth-watering tie.
Boateng, who was sluggish in Germany's opening games at the tournament, said: ' I share the coach's opinion. We've never seen as many fouls like in that match, especially from behind. Quite a lot of things went beyond what is acceptable.
'We'll just have to impose our way of playing. I'm highly motivated and glad I'm playing here, like the whole team. We're happy and I'm eager to play that match.'
Germany's head coach, who arrived for the press conference on Monday around 90 minutes ahead of schedule, claimed the absence of Neymar could be a motivating factor.
Short URL: https://www.africanexaminer.com/?p=14048