EURO 2016: Prosecutors Blame Marseille Violence By English Fans On Russian Hooligans
Latest News, Sports News
Monday, June 13th, 2016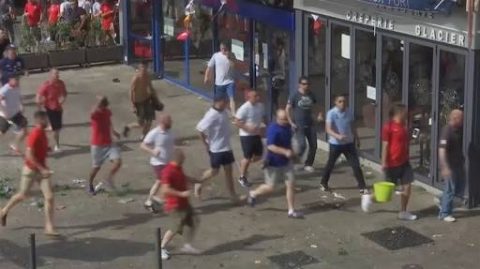 BALTIMORE, MD (AFRICAN EXAMINER) – The Prosecutors have alleged that a group of well trained Russian hooligans were behind the violence which erupted in Marseille during the Russia-England match at the ongoing Euro 2016 in France.
A city prosecutor alleged that 150 Russian football supporters "were well prepared for ultra-rapid, ultra-violent action" and were able to evade arrest.
Already, two England fans have been slammed with jail term for throwing bottles at police, while another four suspects are to be arraigned for immediate trial.
The first England fan to appear in court in Marseille Monday was 20-year-old Alexander Booth, from Huddersfield, West Yorkshire. He was sentenced to two months for throwing a plastic bottle at police.
While reacting to the conviction, emotional Booth's father Chris, said he would challenge the ruling.
The second England fan was Ian Hepworth, 41, who is a psychiatric from Sheffield. He who was sentenced to three months for throwing a bottle at police and then walking forward to pick up a second bottle.
The two were banned from France for two years.
Similarly, two Russians have been arrested for a pitch invasion.
While the violence lasted, about 35 people were injured; four, mostly English fans were seriously touched. Another 20 suspects have also been arrested after three days of restiveness in the French city.
Home Secretary Theresa May accused Russian football fans of bearing a "heavy responsibility for initiating violence" and added some England fans had let their country down.
Russia's Sports Minister, Vitaly Mutko, in his reaction declared UEFA had "done the right thing" to start a disciplinary case against the Russian Football Union., according to R-Sport news agency.
Still, Russian Minister of Police Igor Lebedev criticized French police and called on Russian football fans to "keep up the good work".
On his own, England Manager Roy Hodgson and Captain Wayne Rooney appealed directly to fans to "behave themselves".
Russia's next match against Slovakia is to hold in Lille Wednesday – eve of England's match against Wales, at a distance of about 24 miles away in Lens.
Short URL: https://www.africanexaminer.com/?p=33535