FIFA queries Keshi "Racial" comments against Malawian Coach
Featured, Sports News
Friday, September 13th, 2013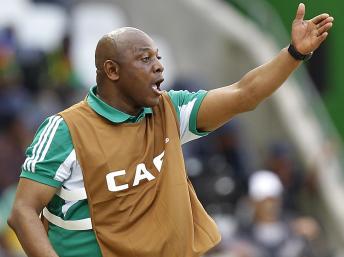 FIFA has queried Nigeria's Super Eagles coach over "racial" comments against his Malawian counterpart coach Tom Saintfiet.
The Malawi Football Association (FAM) had reported Keshi to Fifa after he called Mr Tom Saintfiet "a white dude who should go back to Belgium".
Keshi had said his comments were not intended to be a racial slur against the outspoken Malawian coach who had written to FIFA urging the football governing body to move Nigeria/Malawi crucial world cup match out of Nigeria over security concern in Calabar.
Confirming the query, a member of the NFF board member Chris Green told BBC Sport that "We can confirm that we actually received an official query from Fifa before the game against Malawi in Calabar.
"It was addressed to Keshi to respond, but we felt it would create an unnecessary distraction to inform him before a crucial game.
"We are all putting our thoughts together and will give Keshi an opportunity to defend himself within the deadline given by Fifa.
"The federation is confident that coach Stephen Keshi is not a racist and what transpired between both coaches has been blown out of proportion. We are very optimistic that everything will be sorted out amicably."
Short URL: https://www.africanexaminer.com/?p=1039