I Won't Argue With Mourinho- Van Gaal
Featured, Latest News, News, Sports News
Monday, July 28th, 2014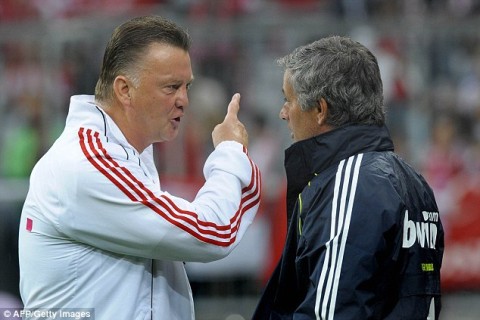 Louis van Gaal will not get drawn into any mind-games with Jose Mourinho this season and he says he still regards the Chelsea manager as his "friend".
Mourinho controversially claimed earlier this week that United were paying over the odds for Luke Shaw, a £27 million signing from Southampton who reportedly now earns in the region of £100,000 a week.
Mourinho said had Chelsea paid that kind of money to the 19-year-old, it would have "killed" the London club.
United boss Van Gaal hinted he would speak privately to Mourinho about the matter. Many saw that as a sign the two former colleagues were set for a rocky relationship this season.
Mourinho, who worked as Van Gaal's assistant at Barcelona for three years, has a record of trying to wind up fellow managers.
"I don't think I will fall out with him. He is my friend," Van Gaal said of Mourinho.
"I don't think I will fall out with all the other managers. I have full respect for all my colleagues.
"For me, mind games are not so interesting. I have to manage my club.
"That is already difficult enough. I am not concerned with other clubs or other managers."
Short URL: https://www.africanexaminer.com/?p=15215