Kashimbila Multipurpose Dam In Taraba Ready in February, Says Ochekpe
Latest News, News
Saturday, December 20th, 2014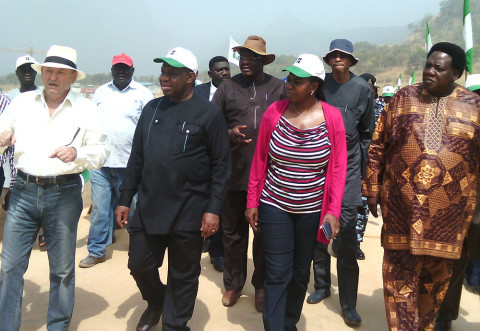 The multi-billion naira Kashimbila Multipurpose Dam in Taraba State will be ready for commissioning in February 2015, the Minister of Water Resources, Mrs. Sarah Ochekpe, has said.
Mrs. Ochekpe gave the assurance on Friday during an inspection tour of the project alongside her colleagues – the Ministers of Power and Tourism, Prof. Chinedu Nebo and Edem Duke respectively.
The dam, which will supply 60,000 cubic metres of water daily to over 400,000 people, is now at 95 per cent completion stage.
An excited Ochekpe, recalled that the project was just at 10 percent completion in 2010, noting that the accelerated works carried out on site was a clear demonstration of political will on the part of President Goodluck Jonathan to save thousands of lives that could be endangered should Lake Nyos break.
The Kashimbila Dam apart from supplying water also has other components such hydro power plant, which will generate 40 mega watts on completion, irrigation with net 2,000Ha, 11 km access road to dam, air strip which is already in use as well as great potential for tourism.
The Ministers, who were conducted round the project site by Head of Engineer at S.C.C. Nigeria Limited, the contractor, E Frank, expressed satisfaction with the level of completion and the quality of works done.
Mrs. Ochekpe had this to say: "We are here in Kashimbila today and we are happy at what we have seen.
"As at 2010, the level of competition of this project was just 10 per cent.
"But you have seen it has taken political determination of Mr. President to see that this project is executed to finish.
"This is an environmental project that is designed to safeguard the lives of thousands of citizens of Nigeria in more than five states that will be affected should Lake Nyos break.
"We are happy that as we stand here today, the project is at 95 per cent completion.
"We have already set in motion the processes that will lead to the commissioning of the project in early February 2015.
"So, we are happy about what we have seen.
"We appreciate all stakeholders that have worked on this project and will continue to work until it's fully completed.
"Our greater gratitude goes to Mr. President who has taken it upon himself to see that this project is not just completed but put to effective use."
On his part, Prof. Nebo was delighted that the turbines for the power plant have already been installed.
He said: "This is the most profound use of natural resources and excellent manifestation of world class environmental management.
"And because of the hydro power plant, the transmission infrastructure that will be put in place here will strengthen the entire Taraba, Benue and Plateau States so that we have a more reliable and stable electricity grid in this part of the country.
"This is fantastic.
"This is actually a transformation agenda of Mr. President at work."
Nebo also assured Nigerians that evacuating the power generated would not be a problem as the contract for putting in place a transmission sub-station and hundreds of kilometres of transmission lines has already been awarded.
Kashimbilla Dam is located between the towns of Kashimbila and Gamovo River Katsina-ala in Takum Local Government Area of Taraba State.
The Dam on completion will check threat of flood from the structurally weak volcanic Lake Nyos along the Cameroon line volcanic activity.
The Minister of Water Resources said should there be flooding, the disaster that ensues will affect Taraba, Benue, Cross River, Kogi and Delta States.
In August 1986, when there was eruption, Cameroon released thousands of tonnes of poisonous gas, which caused extensive flooding resulting in the death of about 1,700 people and 3,000 herds of cattle and livestock.
Also on the inspection tour was the Minister of State for Power, Mohammed Wakili, Permanent Secretaries in the Ministries of Power and Environment and the Director of Dam in the Ministry of Water Resources, Engineer Ikpeawujo, and other directors.
Short URL: https://www.africanexaminer.com/?p=20841