Eaglets unstoppable, qualify for quarter-final
Sports
Wednesday, October 30th, 2013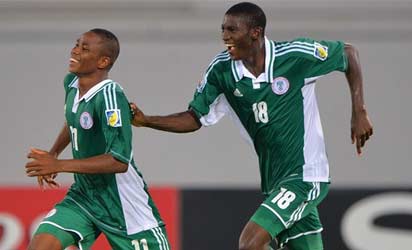 Agency Reporter
Golden Eaglets coach Manu Garba has saluted his team's firepower, saying his team are difficult to stop as they love to score goals.
Golden Eaglets players Yahaya (Left) and Awoniyi (Right) celebrate one of their goals against Iran
Nigeria booked their place in the last eight of the U17 World Cup on Tuesday evening after they spanked Iran 4-1.
With 18 goals in four matches, the Golden Eaglets now have an average of 4.5 goals per match and Manu said there are still many more goals to come.
"I said earlier that my attack is blistering and I still maintained that it would be difficult for any team to stop us from scoring because our team loves scoring goals, "said Manu.
"We don't pretend we are an attacking team though there are still few errors but we are going to correct them as we go further, as we progress."
Manu said he has no reason to change his tried and tested coaching style, adding that the best form of defence is to attack, he maintained in the flash interview immediately after the match.
"I always want my team to attack and I would always improvise because this is a team where anybody can score," he added.
The Eaglets face Uruguay for a place in the semi-finals on Saturday evening.
Also, Cote d'ivoire made it to the quarter final defeating fellow African representatives Morocco 2 goals to 1.
MTN Football
Short URL: https://www.africanexaminer.com/?p=3983