Mourinho Learns the Hard Way, as Lampard Hurts Chelsea Wearing Manchester City Jersey
Featured, Latest News, News, Sports News
Sunday, September 21st, 2014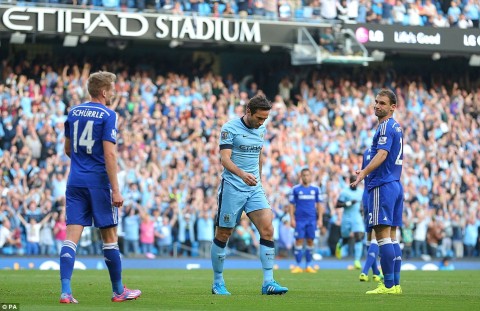 Chelsea learnt one of the greatest lessons of football in a hard way after Manuel Pellegrini unleashed the visitors' record goal scorer, Frank Lampard to rescue Manchester City from another home defeat, just when it seemed the Londoners were smiling back to Stamford Bridge.
Perhaps, this is why football needs to be ran by people that do the round leather game.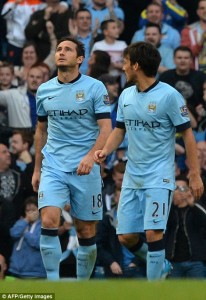 Jose Mourinho did not recommend releasing Frank Lampard. The club made a decision and on Sunday, the club did not only pay for that decision, but the players, managers and the traveling fans had to bite their fingers for it.
Chelsea were heading for another important victory at the Etihad Stadium. There was five minutes to go and they were closing the game down, as they had done for the other 85 minutes, shutting Manchester City out, frustrating them, blocking off every avenue of attack.
The ball forward was speculative to say the least and was met by James Milner, squaring at full stretch on the volley. From this unlikely scenario, magic occurred. Lampard arrived, late but perfectly synchronised as ever, and struck his shot past a defeating Thibaut Courtois.
The goal was painful, considering the time it came, but if you ask any fan at the Chelsea's Blue corner, both inside and outside of the ETIHAD, they will say what was more painful than the goal and the time it came was the scorer.
How many times had Chelsea's faithful seen him do that? Enough times to be the club's top goalscorer. Lampard did not celebrate, even looked slightly sheepish, but inside he will know a point had been proved.
How did they let him go? How did they ever risk he would end up playing against them? Some players are just not meant to be in opposition. Steven Garrard plays against Liverpool? Absolutely impossible! Would Manchester United ever have faced Ryan Giggs or Paul Scholes? Of course not.
Mourinho had sold Lampard, but reluctantly. Earlier last season he had talked of wishing to keep Lampard and Ashley Cole. But he doesn't run the club. They might be advised to listen to him in future, though.
Short URL: https://www.africanexaminer.com/?p=17727