Neymar Shock: Brazil Squad Visit psychiatrist Ahead of Clash With Germany
Latest News, News, Sports News
Tuesday, July 8th, 2014
Brazil players have gone to see the team psychiatrist to help them get over the shock of losing Neymar ahead of Tuesday's semi-final clash with Germany.
Luiz Felipe Scolari's men are still clearly troubled by the injury to their biggest star which has cast a big shadow over their World Cup semi final with Germany on Tuesday night.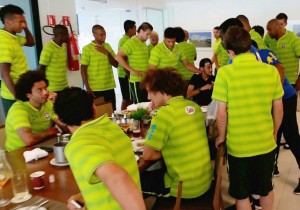 Brazil captain Thiago Silva, banned for the semi final after being booked, also called Colombia's Juan Zuniga a "coward" for the challenge which left Neymar with a broken bone in his back which has ruled him out for up to six weeks.
Silva also said Brazil team psychiatrist Regina Brandao has spoken to members of the squad to help them try and prepare mentally after losing their talisman.
"We just talk about a lot of things – Neymar being one of them – but she emphasised we all have to feel at ease. Silva said
"Neymar has already done what he had to do. Now it's up to the other 22 to go out there and do everything for victory. He wanted to be here.
"And now, a coward's tackle – some people say it was normal, but I don't think it was… That kind of challenge isn't done. You can't get the ball from someone by putting your knee into a player's back, it's not normal. But there you are."
Skipper Silva will miss the semi-final with David Luiz taking the armband.
Scolari must decide whether to bring in Willian for the injured Neymar or go more defensive with three midfielders Luiz Gustavo, Paulinho and Fernandinho.
But the Brazil boss insisted that however he approaches the game that he is convinced Brazil can reach the final.
Scolari said: "If I play with three defensive midfielders, that's one option. I will give the full-backs more freedom, obviously.
"If I have two players in there, the full-backs will have less freedom but I might be able to add something that imposes a bit more damage on Germany. Those are my options.
"We've been working a lot to overcome obstacles since the beginning. We had to overcome problems and weaknesses to get to where we wanted, to get through the group and the round of 16 and so forth. We continue to do that.
"We have to get through the semi-final to get to where we want to be. Tomorrow, though, we'll be without Neymar: one of our references and one of the best players in the world.
"But we have another 22 players who have been handpicked and capped because we know they are special. We were speaking about being on the bench yesterday. Why is it special? To provide a special moment. To go on to the pitch to make an impact, that's special.
"Those guys who come on are special. They can make a big difference. This is what we are conveying to our players. We will miss Neymar, but we have a team who can overcome the difficulties and go on into the next round.
"We'll play for us, for Neymar, but above all we'll go after the goal the group has had since the beginning: to qualify for the final."
Short URL: https://www.africanexaminer.com/?p=14042