Suarez Faces Big Financial Setback following Alleged Bite
Latest News, News, Sports News
Wednesday, June 25th, 2014
Luis Suarez faces the prospect of a big financial hit following his alleged biting of Italian defender Giorgio Chiellini, with existing sponsorship deals potentially being ripped up and future endorsements put in jeopardy.
Already, two of his sponsors — 888poker and adidas — have hinted that they may re-examine their deals with Suarez.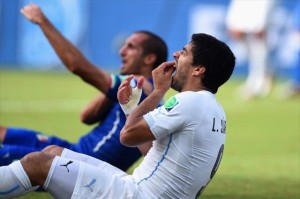 888poker, which signed up Suarez last month, said it was "reviewing" its relationship with the striker.
"We will not tolerate unsporting behavior," it said in a tweet.
888poker announced a global endorsement contract with Suarez after Liverpool's surprise run toward the Premier League title. Though the team placed second behind Manchester City, it gained many supporters for its attacking flair.
The signing up of Suarez, who is a keen poker enthusiast, was also a sign that Suarez had improved his image following a biting incident with Chelsea defender Branislav Ivanovic the previous season. He was voted player of the year by his peers in the English game as well as football writers.
A far bigger profile for Suarez comes from adidas, which is FIFA's oldest partner — the relationship goes back to 1970.
In a statement, the German sportswear giant said it awaits "FIFA's full investigation into this matter and will respond accordingly."
In the early hours of Wednesday, FIFA announced it had opened a disciplinary case against Suarez, who allegedly bit into the left shoulder of Chiellini in a crucial group-stage game. Uruguay won the game 1-0 to progress to the second round but Suarez's participation in that looks in real doubt. Under the guidelines, Suarez could face a ban of up to 24 international matches.
Nigel Currie, director of sports marketing agency Brand Rapport, said the potential cost to Suarez could "potentially run into millions" and doesn't just account for his current deals.
"It's pretty damaging for him, it's not as if he hasn't had previous," said Currie, noting two previous biting incidents, a racism row involving Manchester United's Patrice Evra, and his handball in the last World Cup in South Africa that prevented a clear Ghana goal.
"He could end up missing out on a chance of a lifetime of being a hero at the World Cup," Currie said. "Although he's a great player, there are others around and if there's a big risk they (the sponsors) will go for a safer option. This is the real shop window, the real global opportunity to become one of the top global superstars."
Short URL: https://www.africanexaminer.com/?p=13498