U-17 World Cup: Confident Eaglets dare Uruguay, Seek Revenge
Sports
Saturday, November 2nd, 2013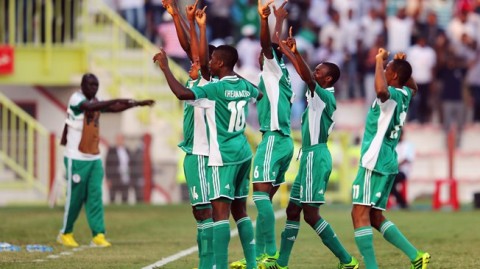 Agency Report
Golden Eaglets coach Manu Garba has restated his belief his team will go past Uruguay to reach the semi-final of the U17 World Cup on Saturday.
The South Americans earlier in the year defeated Super Eagles and Flying Eagles 2-1 at both meetings, but Manu is confident his team will beat Uruguay.
"The Golden Eaglets are different from the Super Eagles and even if you bring a Uruguayan team with Diego Forlan, we would try our best to win the match," Manu said confidently.
Indeed, Manu admitted that it was a Herculean task for the Golden Eaglets to arrive at this stage of the competition having played in what could be regarded as the toughest group that housed defending champions Mexico and two strong debutantes, Sweden and Iraq, adding that his boys are now toughened to withstand the rough and tumble stage of the competition.
"As I said earlier, the knockout stage is the most difficult stage of any competition but we are ready to beat Uruguay on Saturday because our only aim of being here is to win the trophy," said Manu.
Nigeria have never failed to progress beyond the quarterfinal of this competition since 1995 when Eaglets lost 2-1 to Oman at Ecuador 1995.
Aliyu Abubakar was delighted to be part of the Eaglets team and promised victory.
"It is a great honour for us to represent our country at this stage of our career," said the solid-built Aliyu Abubakar.
"We are going to do our very best to win this match based on the instructions to be given to us by our coaches.
"We remain focused with high level of discipline and we are going to do our best to win this match and progress to the next stage of this competition."
In another interview, assistant coach, Nduka Ugbade said matter-of-factly:"Like any team that is in the competition, we are here to win and we would try our best to beat Uruguay."
MTN FOOTBALL
Short URL: https://www.africanexaminer.com/?p=4173