Uche Wishes Eagles Good Luck, Says "I Hold No Grudes Against Keshi"
Latest News, News, Sports
Saturday, May 10th, 2014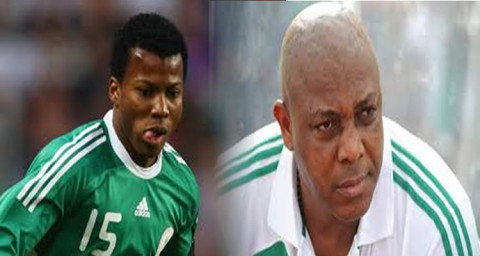 Out-of-favour Villarreal striker, Ike Uche, has wished the Super Eagles of Nigeria "good luck" at this year's FIFA World Cup in Brazil, despite being omitted from the 30-man provisional squad.
Uche twitted: " I wish my colleagues all the best in Brazil."
The 30 year-old striker however, said he holds no grudges against coach Stepehen Keshi for excluding him from the squad.
The former Granada player also encouraged his supporters to get behind the African Champions when the World Cup kicks off in Brazil this summer.
"To the fans, I'd like to thank you for your support, let's get behind the Eagles in Brazil" Uche said.
Uche, a regular in Nigeria's senior national soccer team prior to this period, was surprising left out of Keshi's list of players invited to report to the Super Eagles' USA camp in readiness for the global tournament.
The list made available to the public by the country's football governing body, NFF Tuesday, has attracted a lot of criticism among soccer-loving Nigerians both at home and in diaspora.
Many argued that the Super Eagles handlers should have considered current form ahead of other factors in picking their squad, saying that the country needs its best players to represent her at  the World Cup irrespective of their personal relationship with the team coach.
One of those against Uche's exclusion is former national goalkeeper, Emmanuel Babayaro.
Babayaro, who was part of the famous Atlanta 96 Olympic gold-medal winning team said he was shocked not to see Uche's name on the 30-man list.
He said: "I had hoped he would get an invitation and at the end of the day if you don't want him, you won't take him to the World Cup but by virtue of how wonderful and how well he has played for his club, I think he should have gotten a chance in terms of invitation.
"You don't judge him on the old character because he probably might have improved on that from that moment and now," he added.
"For me if there is anyone that should have made the squad, that should be him. In general, I don't have any problems with the 30-man list." Babayaro addede.
Uche, who last played for Nigeria in a match against Burkina-Faso at last year's Africa Cup of Nations in South Africa, has scored 13 goals for his Spanish side out of 29 matches.
Short URL: https://www.africanexaminer.com/?p=11149