First Lady Controversial Campaign Comments Causing Resentments In the North -Findings
Exclusive Reports, Latest News
Sunday, March 15th, 2015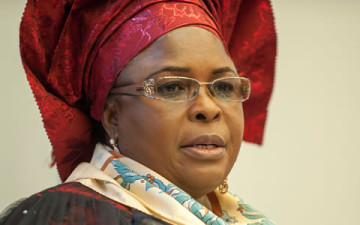 Ayodele Afolabi, Abuja – It was revealed at the weekend that the uncouth remarks made by the wife of the President, Dame Patience Jonathan has taken a negative turn on the electoral fortunes of her husband, especially in the North.
African Examiner gathered that PDP members were having it rough to placate those that were angered by her uncomplimentary remarks about the North.
According to our source, those who are initially being wooed into Jonathan camp were developing cold feet.
Before now, it was learnt that efforts by Vice President Nnamadi Sambo, the National Chairman of PDP, Adamu Muazu and Governor Sule Lamido to woo voters were already paying of.
"In fact, they have made appreciable impact such that it could be easy for Jonathan to get the mandatory 25 percent in several core Northern states.
"The hate remarks by Dame Patience, Governor Ayodele Fayose and Femi Fani-Kayode have now dimmed that hope", said our source.
According to the source who does not want his name in print, the frustration led to why Muazu threatened to resign as the party Chairman.
"Unless something drastic is done to appease the PDP members in the North who are toiling day and night to sell Jonathan to the electorates, the outcome of the poll may not be palatable to Mr President".
He noted that from findings, what would have helped the president is his scorecard especially the farmers who are said to be impressed with his achievements in agriculture.
Many farmers believe that Jonathan has done well in fertiliser distribution, rice farming and dry season farming innovation he introduced.
"These are what they want to hear and not calling their hero brain dead and that the North lacks good children upbringing that the wife of the President has remarked".
He however said that the situation could be remedied, if the President could publicly chastised his wife if only to appease the voters in the North.
Please follow and like us:
Short URL: http://www.africanexaminer.com/?p=22737