Breaking News! Justice Oputa Dies At 96
Breaking News, Featured, Latest News
Sunday, May 4th, 2014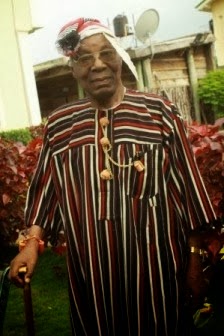 Retired Justice of the Supreme Court, Justice Chukwudifu Oputa is dead. He died at the age of 96, according to his family.
He was said to have died around 3:30 pm on Sunday in Abuja. The former jurist has been sick and is said to have suffered partial stroke and has been bedridden.
A statement by the family said Oputa had recently recovered from a brief illness before his condition worsened leading to his death.
Son of the legal practitioner, Geoffrey Oputa, confirmed his death, saying that his father suffered a stroke on the February 14.
According to him, plan to fly him abroad for treatment was shelved when he gradually recovered and was at home until Sunday morning when his health worsened, saying that he was taken to the National Hospital on Sunday morning and eventually died in the afternoon.
He is survived by a wife and three children among whom is the controversial musician, Charly Boy and legal practitioner, Geoffrey Oputa.
Justice Oputa is still widely revered for his role in handling the affairs of the famous Oputa panel.
Justice Chukwudifu Oputa was appointed to investigate abuses during 15 years of military rule, which ended when President Obasanjo took office as elected president on 29 May. The Oputa panel will be required to examine human rights abuses when President Obasanjo was in power previously as a military ruler from 1976 to 1979.
The decision follows demands for a thorough investigation of rights abuses in Nigeria since independence in 1960.
Short URL: https://www.africanexaminer.com/?p=10817