Time for Consolidation Has Come to Southwest, Says APC
Featured, Latest News, Nigeria 2015 Election
Monday, April 13th, 2015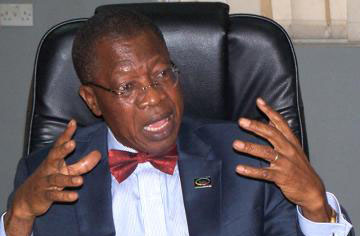 The All Progressives Congress (APC) has congratulated the people of South-west geo-political zone for electing its governorship candidates in Lagos, Ogun and Oyo, as this act will usher in remarkable success, while the time of consolidation has come to the region.
The party, also, congratulated the three governors-elect in the zone namely; Mr. Akinwunmi Ambode of Lagos State, Sen. Abiola Ajimobi of Oyo State and Sen. Ibikunle Amosun of Ogun State, all of whom he said, had fought good fight in the governorship contest.
The party's National Vice Chairman (South-west), Chief Pius Akinyelure said this in a goodwill message, appreciating the people of the region for unflinching support they gave the APC during the just concluded general election.
Akinyelure said the victory of Ambode signalled a season of socio-economic consolidation, which became necessary due to transformation already going on in the APC-controlled states.
According to him, the party's victory "will not have been possible without the support of South-west, which stood against poor government and earnestly pushed for regime change in Nigeria. A new dawn has started already in Nigeria."
"It is a dawn of political stability and economic progress. Indeed, it is a dawn of new Nigeria, where people's aspiration and yearning would be realised. It will mark a total break from diverse socio-economic indicators that threaten our indivisibility as a state and as a people in spite of our diversity.
"It will herald an order of confidence building and put an end to a culture of impunity that has become entrenched in our country. With your support, we have emerged victorious at the poll. Successfully, we have returned the APC to power in three South-west states, where governorship elections were conducted," he said.
He stated that the party had made good progress in all South-west states during the state legislative elections, adding that "we, therefore, thank the people of South-west for unflinching support they gave our party during the 2015 General Election."
Akinyelure assured that the party would make good all its promises, as it has never reneged all the past promises, saying that "we have been implementing life-transforming policies programmes in all states under the control of our party. Now that our parties have been given another opportunity to rule, the APC will continue to pursue pro-people policies and programmes not just in South-west, but also in Nigeria."
The vice chairman, however, expressed concerns over irregularities and malpractices, which he said, marred the state house of assembly election in Ekiti and Ondo States, saying the party would seek redress legitimately.
In Ondo, for instance, Akinyelure explained that the state house of election was full of irregularities and malpractices, which culminated in the supposed defeat of candidates in the party's areas of strength, though said it was not yet over.
"We will seek redress at the appropriate time. The era of impunity has gone. Until we are proved otherwise, we keep pushing for the restoration of our stolen mandate. But we have not completed the work yet. We still have a lot of work to do in Ekiti and Ondo States.
"In Ekiti, our mandate was rigged in 2014 with the use of military officers. Even when we demanded probe into the allegation, the Presidency refused to investigate the Ekiti election rigging tape. But we keep fighting legitimately until justice is done," he said.
Short URL: https://www.africanexaminer.com/?p=23186