Fighting Prophet TB Joshua on SCOAN Guesthouse Collapse
Featured Contributors/Columnists, Latest News
Saturday, September 27th, 2014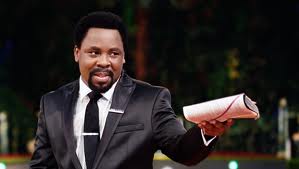 By Prof R. A. Ipinyomi, University of Ilorin, Nigeria
From the perspective of a Church Bishop and a Prophet, Mr. T B Joshua and the founder of Synagogue Church of All Nations (SCAON) weaves a unique combination of Biblical stories of the Apostolic age, a man of very humble beginning that has defiled all odds to be a self-made, a contemporary modern preacher of the Word of God where many contemporary church founders are now owners of Universities and worldly properties, and a man of calamities with serial oppositions from different quarters yet in abundant joy. The collapse of the guest house of his church on September 12, 2014 is yet another test for this prophet and I am praying for him, the families that lost loved ones from different nationalities, Lagos State and her ability to know the truth and take the right step, the fans that have come to look forward to seeking freedom and liberty to a life free from demonic oppression and sickness, even the other faiths and church congregations that are merely envious, standing in awe or aloof right now.
We understand that the National Emergency Management Agency (NEMA) of Nigeria and the Lagos State Emergency Management Agency (LASEMA) may have eventually come up with staggering figures with 85 deaths and 135 survivors. Even one single death would have been too many when it involves SCOAN; we are however placing our complete faith on the truth of the events leading to this large scale tragedy. We think that this is an induced cause and a calculated attempt to further cause distraction and possibly to destroy Prophet T B Joshua and whatever his Ministries stand for. This is a moment to know the truth whether if we cage a Daniel in the lions den, or throw some youths into the burning furnace of the king of Lagos, or even burying a Jesus and rolling a big stone to prevent his disciples from stealing the dead body of their Master, may be there is still a Saviour to rescue. But we don't need to go that far in the modern days because justice travels faster in miraculous ways these days.
Our advice is that those who attempt to fight this battle, on behave of so called human rights, or under Lagos laws or the common laws must do so from very genuine perspectives rather that thinking that they have got down an enemy. We are in a position to assert that Prophet T B Joshua is not an enemy of the society, he is not an enemy of the Church of God, and he is not a deceiver or an impostor or a common criminal that would build a substandard house so that many would be killed therein. I slept in some of these guest houses spending at least up to a total of 8 or more days and nights on the whole. They are like executive suits and first class hotels. Those who wish to fight must find and choose the right weapons and together with the true facts. I have come to know Temitope Balogun through my people in Arigidi and his antecedent is just like this. I am one of the great grandsons of Olanipekun I (the Saki of Arigidi) through his daughter Aminatu and my mother Alimatu. His mother carried his overdue pregnancy for many extra months and his naming ceremony was another story of tragedy and triumph. Yet we must allow the laws to take their rightful causes but without anyone of us attempting to play God in the process.
Lagos State government must seek and find the truth as Prophet T B Joshua has nothing to gain either by running against the law or running away from the law. My own anxieties are rather many and in different forms. First where is and what has happened to the plane allegedly cited hovering around the building four times before the collapse? The pilots would have something to say and they should come forward for their own sake. Why are some people forming themselves to becoming organized opposition to Joshua when armed robbing, kidnappings, rapes, killings and all manners of ritual killings are allegedly ongoing in Lagos and they are at peace with themselves? Yet I am always a supporter of the truth and subtly supporter of the underdogs even when the truth is not totally in the favour of the underdogs. Even in games and sports I find myself here but when you act you must act well enough. Hence Prophet T B Joshua did not write this thesis we intend to use against him but I wish we could find the authors of the episode resulting in the collapse of SCOAN guest house where so many people lost their lives. Lagos State must distinguish between poor construction leading to loss of lives and induced cause of building collapse also resulting in loss of lives.
On ordinary days riddles like this could have been taken to Prophet T B Joshua to unravel for us but when it involves T B Joshua who is there again to talk? This is the extent to where the Church and the entire World have descended where we are all in darkness and some folks thinking that all of us are beer pallour members and class mates. I wish that Lagos State government would take a holistic view and find spiritual answers to things that are of the spirit and monetary answers to things that can be monetized.
Let us warn that where angels dare to go some carnal individuals should not waste their precious lives simply because they think that this case is like any others they handled their own ways hitherto and got away. No one is getting away here, not even SCOAN or T B Joshua. Many people will fall because of this episode and life will never be same for them. Only the truth would win here and only anyone who is of clean motive and one who truly loves humanity should attempt to get involved. We have already lost many souls and many of the survivors may have been maimed but for the government of Lagos to ensure that justice is done its justice must also cover Prophet T B Joshua and his Ministry without bias or prejudice.
Our expectations are many. If several people had been at SCOAN to unravel their own mysteries and they got correct answers why do we not take first information from SCOAN and investigate such until proved wrong? Secondly why are a few Lagos citizens interested in the case beyond rivalry, jealousy or wish hunting? What gives them the impression that the Nigeria government, the Nigeria Police or even Lagos State is unable to act without a pressure? If this generation must survive and thrive the truth must be sought where 2+2 gives only a unique answer, where light is light and darkness is called by its raw name. My personal position is that the Church of Christ must surfer tribulation and temptation if that Church is based on Christ. Those churches that find friendship with the World today and members simply go to socialize and even pay their tithes may have been dead long ago because they left the evangelical teaching preferring to be men pleasers and world lovers. Yet we are aware that in the last days there would be false prophets coming with miracles and great wonders. Let us seek for the truth that endures to the end fervently and earnestly.
Prof. R. A. Ipinyomi
ipinyomira@yahoo.co.uk or/and raipinyomi@unilorin.edu.ng
Please follow and like us:
Short URL: http://www.africanexaminer.com/?p=17993