Middle East Crises Are Unintended Creation Of America -Scholar
Latest News, News, World News
Wednesday, August 27th, 2014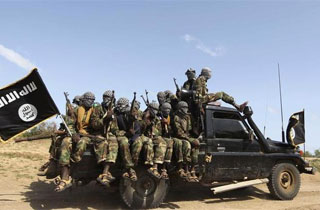 The blame over the ongoing bloody war ravaging in most of the Middle East countries has been placed at doorstep of the world super power – the United States (US).
A political scientist and an Islamic scholar, Alhaji Nojeem Jimoh made this submission Wednesday afternoon on a post in his Facebook account.
While affirming that he was not a fan of Basahar Al – Assad, the  Syrian leader, Jimoh alleged "today was the rebel and rebellion of yesterday as promoted, funded and armed by America in Iraq, Libya and Syria. The civil war in that country has lasted as long as it has because the rebels had full American support – a scenario previously acted in Iraq and Libya".
He further observed that US has today found itself in the awkward position of fighting on the side of Assad and the likes of Islamic State in Iraq and Syria (ISIS) because the evil which it allegedly created in Syria "has turned against it and its democratic interests".
He wondered how a group of desert-dwellers who have never seen modernity would take on the governments of three countries, concurrently, adding that the militants were emboldened because US had  armed them to the teeth in fighting a former enemy.
While hailing democracy, the oil and gas executive reasoned that given a "choice between the non-democratic past and democratic today, the people of these countries (Middle East) would rather go back 20 years in time. Sadly, these people are left to pick up the pieces."
Jimoh  therefore called on US to retrace her steps and reflect seriously on her choices, insisting, "No country has ever come out of it better…" (lingering, instigating and bloody war).
Please follow and like us:
Short URL: http://www.africanexaminer.com/?p=16752