APC Laments Continued Detention Of 182 Certified Election Observers
Ayo Balogun, Featured, Latest News, News
Wednesday, November 20th, 2013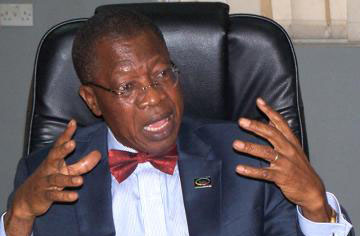 Ayo Balogun, Lagos
The All Progressives Congress (APC) has described as totally inexplicable and unjustifiable the continued detention of the 182 election observers who were illegally arrested in Imo State two days before last Saturday's governorship election in Anambra State, even after INEC has publicly said they are duly certified election observers.
In a statement issued in Abuja on Wednesday by its Interim National Publicity Secretary, Alhaji Lai Mohammed, the party expressed shock at the brazen contempt of court displayed by the police when the observers were brought before a Magistrate on Monday.
It said even though the charges of conspiracy to commit misdemeanour, unlawful assembly and conduct likely to breach peace were bailable, the police acted in such an irresponsible, unlawful and contemptuous manner just to ensure the suspects were not granted bail.
"Having brought the alleged suspects before a Magistrate, one would have expected that the Imo Police Command will allow the judicial process to follow its due course. Rather, men and officers of the police command acted in a manner that tainted the entire Nigeria police and called to question their motive for arresting the innocent Observers in the first instance
"Just before the case was called, the police suddenly seized and took away some of the suspects. When this came to the knowledge of the lawyers representing the Observers, they raised it with the presiding magistrates, who ruled that the court will stand the matter down for two hours so that the remaining suspects could be produced before the court.
"Shockingly, the Officer in Charge (Legal) – acting on 'orders from above' – brought out his gun and ordered equally gun-wielding men to forcefully return all the accused to the police cell, and right in the presence of the presiding Magistrate and other lawyers, the suspects were taken away and were never returned, forcing the Magistrate to adjourn the case to 6 December, 2013,' it stated.
The party said "ultimately, the police that is a creation of the law succeeded in thwarting the cause of justice. It is a shame that the police decided to bring the hallowed chamber of the Magistrate court and indeed the entire judiciary into ridicule with a view to denying the suspects their right to being granted bail.
"It is clear that the Gestapo style exhibited by the police, acting on the ever-nebulous 'orders from above', was done so they can continue to detain, intimidate and harass the Observers, whose only offence is that they are from Osun State, perceived by the PDP as an enemy state."
APC called on the police hierarchy, if it has any honour left, to sanction the officer and men involved in the contempt of court and perversion of justice, to serve as a warning to other policemen who were bent on turning Nigeria to a Banana Republic.
Short URL: https://www.africanexaminer.com/?p=5036