NAHCON Denies Asking Prospective Pilgrims To Pay Additional $100
Latest News, News Across Nigeria
Tuesday, May 23rd, 2023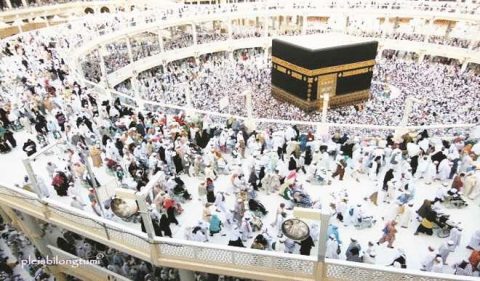 (AFRICAN EXAMINER) – The National Hajj Commission of Nigeria (NAHCON) on Monday said that it didn't ask prospective pilgrims for the 2023 hajj to pay an additional $100.
The Deputy Director of Information and Publications, NAHCON, Mousa Ubandawaki, made this known in a statement in Abuja.

Ubandawaki said, "It has come to the notice of the National Hajj Commission of Nigeria (NAHCON) of a trending news item or information that the pilgrims to this year's hajj have been directed to pay an additional $100.
"It is important to clarify the Sudan crisis which has resulted in the closure of its airspace for security reasons.
"Consequently, all hajj transportation flights will operate through alternate routes which are from one hour 40 minutes to three hours long depending on the departure points in Nigeria."
He said that the alternate route would necessitate the air carriers to fly through the airspace of Cameroon, Central African Republic (CAR), Uganda, Kenya, Ethiopia and Eritrea.
"This will result in an additional cost of aviation fuel and over-flight charges. We thoroughly reviewed all of the options in relation to funding the additional $250 to the airlines which involved several processes.
"We held meetings with the airlines, Nigerian Civil Aviation Authority (NCAA) and the state pilgrims welfare boards in order to find a quick resolution to the problems.
"The commission therefore resolved to manage the situation thus: NAHCON solicited the Federal Government to compassionately agree to waive the remaining 35% of aviation charges in favour of Airlines which would translate to $55.
"This would further alleviate the additional cost of the airfare on the Nigerian pilgrims," he said.
Ubandawaki said that government had earlier waived 65% of the aviation charges to bring down the cost of hajj.
"With this development, the $250 addition negotiated with the airlines will be reduced by $55. The liability of the remaining $195 will be borne by the 75,000 pilgrims which is calculated at $117 per pilgrim.
"To offset the $117 without causing additional financial obligations on the pilgrims, the commission resolved to reduce the Basic Travelling Allowance (BTA) for pilgrims to $700 against $800 provided in the hajj package already paid by the pilgrims," he said.
He explained that for the remaining $17, NAHCON further sought understanding of the air carriers to offer that amount as an additional discount to Nigerian pilgrims who are also victims of the Sudan airspace closure.
"We however hasten to clarify that should the Sudanese airspace be cleared for normal flight either before the commencement of the transportation of pilgrims or at any point of the operation, appropriate refunds will be made to the pilgrims.
"What is playing out from the trending news is but a misrepresentation of fact. We want to make it clear that the commission will never be part of any act that will exploit the pilgrims.
"The commission has always made itself available to the media and the pilgrims to offer its maximum support and cooperation in the provision of information."
Ubandawaki reiterated the commitment of the commission to ensure smooth transportation of Nigerian pilgrims and give them the best of services in the course of administering this year's hajj.
NAN
Short URL: https://www.africanexaminer.com/?p=88128