Obama, Fans Within And Beyond US Mourn Late Superstar, Prince
Arts, Entertainment News, Featured, Latest News
Friday, April 22nd, 2016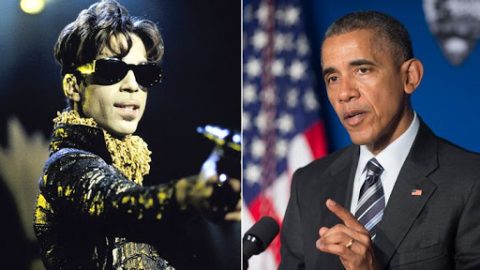 US President Barack Obama has joined millions of fans in the mourning of the late singer and superstar, Prince.
Prince died Thursday after brief health complication in his home in Minnesota at the age of 57. He became a superstar in the 1980s, with the albums in 1999, such as Purple Rain and Sign O' the Times.
Obama in his condolence declared that the world had "lost a creative icon".
Fans have so far chosen to remember the music legend with purple-coloured tributes and dance parties.
In line with this, most buildings, newspaper front pages and websites in US and beyond have changed their colour to purple in Prince's honour.
Prince's native Minneapolis, the Minnesota Twins baseball team turned their stadium purple; the same to the Lowry Avenue Bridge in the centre of the city.
Similarly, the Niagara Falls were turned purple to mark the Queen's 90th birthday, has turned a pleasant coincidence by Prince's fans online.
On Thursday evening, hundreds of people gathered for an all-night party at the First Avenue nightclub in Minneapolis, where Prince recorded his 1984 hit Purple Rain.
The singer's innovative music competence includes spanned rock, funk and jazz. He sold more than 100 million records during his career.
Vigils were also held outside his home as well as in Los Angeles and Brooklyn, where the film director Spike Lee, a friend of Prince's, led another impromptu party.
It would be recalled Prince was hospitalized 15 April, after his private plane made an emergency landing in Illinois. It happened just hours after he had performed on stage in Georgia. He was treated and released after a few hours.
A post-mortem examination is expected to be conducted Friday.
Short URL: https://www.africanexaminer.com/?p=32054