WaterAid, SSDO Others Laments Perennial Water Scarcity In Enugu.
Featured, Latest News, News Across Nigeria
Wednesday, February 1st, 2023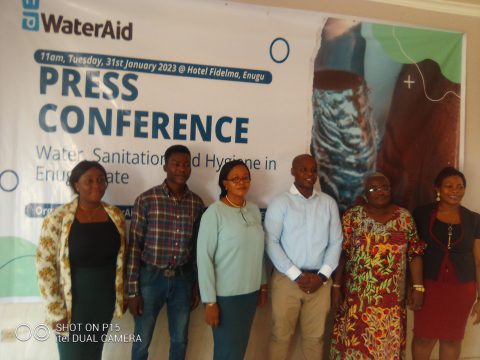 Tasks  Incoming Govt. On Improve WASH.
(AFRICAN EXAMINER) –   WaterAid Nigeria, and its non governmental organization (NGO), partner, South Saharan Social Development Organization SSDO have lamented the perennial water scarcity in Enugu State, that has lasted over two decades, calling on the incoming administration to make Water Sanitation and Hygiene WASH a topmost priority.  
They regretted that despite the huge sums of funds alleged to have been expended in the sector over the years, the problem which has continued to expose the citizens to various forms of diseases such as Cholera, Diarrhea, dysentery, amongst others has continued unabated.
Briefing Newsmen Tuesday in Enugu as part of earlier plan to engage the state Governorship Candidates on issue of WASH, WaterAid, which spoke via a Coalition of Civil Society groups, under the platform of Society for Water and Sanitation (NEWSAN) hinted that its research finding indicates that half of the state's residents lack essential water services 
The organization, had during the briefing read out a press statement to Journalists through the State chapter Coordinator of NEWSAN, Ogechukwu Enwelum, who was flanked by Senior officers of SSDO, as well as Ijeoma Nnaji, a known CSO personality in the state. 
They noted that in 2022, the state declared a state of emergency in WASH sector, and Inaugurated an 18-man Committee to revamp the the sector yet, the challenges in the state persist 
"Understanding these challenges,the Society for Water and sanitation NEWSAN, Enugu state, in partnership with South Saharan Social Development Organization SSDO, is calling the attention of relevant Stakeholders and gubernatorial Candidates to the dire WASH Challenges in the state.
"Research shows that over 2.37 million people lack access to potable drinking water in Enugu state. As a result of this, There has been a price hike of over 100 percent in the past year from water vendors.
"The government and international non governmental organizations have played their parts to see a lasting solution to this problem but all, to no avail.
They recalled that "in time past, over 600 million naira was awarded for the 9th Mile Water Scheme also, the French Development Agency donated $50 million to the state through the state Water Corporation, but this has not yielded the desisted outcome"
According to the group, lack of access to adequate water supply increases open defecation in Communities, adding that this pollutes the environment, contaminates available water sources, and exposes the people to diseases like Cholera, Diarrhea, and dysentery.
They also disclosed that available statistics has shown that over 47 million Nigerians still practice open defecation, and that Enugu state is not exempted, as about 47 percent of the populace still practices the uncivilized act.
"This is a pointer to the lack of proper toilet infrastructure and water facilities, especially in rural Communities" stressing that if the goal to make Enugu state an open defecation free by 2025, in line with the state's road map is to be a reality, the Status quo therefore, must change.
"If the WASH situation of the state is to change, then it is paramount that all residents of the state have access to pipe- born water, sanitary facilities in public places
"A system to maintain water resources and facilities, the Ministry of Water resources creating an accurate database of all water users, less privileged households getting water at a subsidized rate, among other priorities.
The organizations posited that "understanding how important the government's role is in improving WASH, through policy infrastructure, and partnerships, it is important to see some partnership between the incoming government and outgoing. 
"Hence, NEWSAN, calls on the gubernatorial Candidates for the 2023 elections to prioritize WASH services, and furthermore, state their blueprint for improve WASH services in Enugu state.
Short URL: https://www.africanexaminer.com/?p=85001