Ebola: FG To Test Trial Drugs On 3 Patients As 278 Contacts Set Free In Lagos
Featured, Latest News
Monday, September 1st, 2014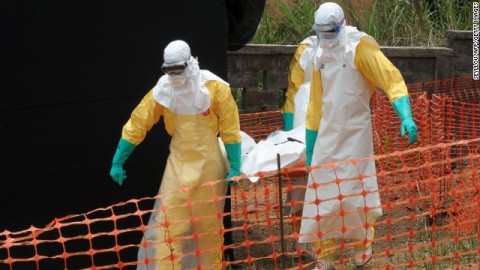 By Ayo Balogun
The Federal Government says it has ordered for the Ebola experimental drug from Japan to be tested on three Ebola patients in Nigeria.
Minister of Health, Prof. Onyebuchi Chukwu disclosed this on Monday at the 2nd National Council of Health meeting in Abuja, adding that 278 contacts under surveillance in Lagos have been released after completing their 21 days observation and showed no trace of the disease.
According to Chukwu, the Treatment Research Group (TRG) which he had informed earlier, had been working hard to identify experimental drugs like Zmapp, and also make recommendations to government on further research on these drugs as well as vaccines for Ebola Virus Disease (EVD) treatment and prevention.
"Following the TRG's recommendation and in consultation with NAFDAC and NHREC, Nigeria has indicated interest to participate in the clinical trials for two candidate EVD vaccines and are considering a third that may be added to the list. We have also applied for experimental drugs such as TKM-Ebola.
"The TRG has submitted a detailed profile and brief on the oral antiviral agent which the Japanese government has offered to make available to affected countries through the WHO. We are now considering this profile and brief to enable us reach a final decision on making it available to our patients.
"Our initial knowledge of the agent is that it has been shown to have strong antiviral activity against the influenza virus following phases I and II human trials, it is now going through phase III clinical trials; it is shown to have strong antiviral property against Ebola Virus in vitro and in vivo. These and the fact that it is considered safe, having passed through phases I and II clinical trials, makes it a good candidate drug for use in emergency situations as the EVD," he explained.
Chukwu said government was taking a holistic approach to the containment of EVD in Nigeria.
He added that as at 31st August, 2014, the number of contacts under surveillance in Lagos stood at 72 while in Port Harcourt, the total number of contacts under surveillance stood at 199.
"There is nobody under surveillance in Enugu presently and no case of EVD in Enugu State. As of 31st August, 2014, 278 contacts in Lagos State had completed the 21 days surveillance and have been discharged from surveillance. While in Enugu, all the six identified contacts have completed the 21 day observation period and have been discharged from surveillance. No contact in Port Harcourt has completed the 21 day observation period.
"It is expected that a few more contacts will develop the EVD especially in Rivers State before Nigeria will see the last case of EVD. While it is encouraging that so far, all confirmed cases of EVD in Nigeria have their roots in the index case, Mr. Patrick Sawyer, great vigilance is required particularly at our ports of entry to ensure we do not have cases of EVD from other sources other than Mr. Sawyer," he said.
The minister said just as in Lagos State, the Incident Management Committee had deployed a strong team to Rivers State to work with the Rivers State Government and that just as the situation had been effectively managed in Lagos and Enugu, the situation in Port Harcourt would similarly be effectively managed.
Please follow and like us:
Short URL: http://www.africanexaminer.com/?p=16909