Ekiti PDP Asks State Assembly To Reject LCDAs Referendum
Featured, Latest News, News
Sunday, July 20th, 2014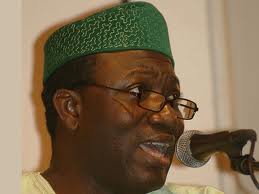 The Ekiti branch of Peoples' Democratic Party (PDP) has warned the State House of Assembly against giving consideration to the result of last Saturday's referendum on the creation of new Local Council  Development Areas (LCDAs), referring to suit challenging the exercise, notice of which it has been served.
The party contended that with such a legal action, which it said was instituted by the party State Chairman, Mr Makanjuola Ogundipe and duly served, the appropriate thing expected of the legislative house was to stay action on consideration of the issues relating to the matter.
This submission was contained in a statement issued by the party on Sunday in Ado-Ekiti, by its Publicity Secretary, Pastor Kola Oluwawole,
Pastor Oluwawole, argued: "The legislators must know that as lawmakers, they must not act and behave as lawbreakers. We are aware of the pressure being mounted on them by the leaders of the All Progressives Congress (APC), but they must act as men and women of honour and integrity and to also note that posterity will judge everybody".
"What the APC lost, that is the support of the people to win election, which was shown on June 21 when it was roundly defeated in the governorship poll, it craves to have through the back door…" the party contended.
The party maintained its position that the weekend referendum was "illegal" as the state Independent Electoral Commission (EKSIEC) which conducted it was not properly constituted, while a suit challenging the exercise was in court.
"We are aware of their desperate plan to plunge the state into chaos following the heavy defeat they suffered in last month's governorship election.
"There are many pressing issues affecting the smooth-running of local governments in the state that the outgoing government has refused to attend to and some were raised last week when members of the Nigeria Union of Local Government Employees issued a strike notice to the government.
"There is the non-payment of the minimum wage arrears despite deduction of N400 million from the councils to service e-payment, partial implementation of Consolidated Health Salary Structure (CONHESS)/Consolidated Medical Salary Structure (CONMESS) which has placed council health workers below their counterparts at the state level", alleged the statement.
PDP posited "Subjecting local government workers to untold hardship through undue delay of council staff deductions, the usurpation of the councils in the area of running grants and functions of the state Ministry of Local Government" was at the variance with the operations of past administrations,
The party urged leaders of thought in the state to prevail on the outgoing Governor Kayode Fayemi to do the right thing, as the corporate interest of the state was above other sentiments.
Please follow and like us:
Short URL: http://www.africanexaminer.com/?p=14651