Fulani Herdsmen Attacks: Senate Summons Service Chiefs
Featured, Latest News, News
Thursday, April 28th, 2016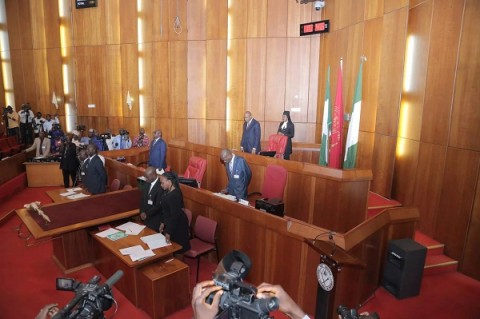 ….Sets Up Ad- Hoc Committee to Probe Attacks
Ayodele Afolabi, Abuja
ABUJA, NIGERIA (AFRICAN EXAMINER) – Senate has summoned the Service Chiefs to appear before it, on efforts being made to put an end to killings in remote communities across the country by Fulani herdsmen.
The upper legislative Chamber has also set up a 6-man ad- hoc committee under the Chairmanship of the Senate Leader, Ali Ndume to carry out thorough investigation of recent attacks of the herdsmen and possible way out of the menace.
Members of the Ad- hoc committee included Senators Isiaka Adeleke ( APC Osun West ) to represent South West, Mao Ohunbunwa ( PDP Abia North) for South East and Abdullahi Adamu ( APC Nasarawa West) for North Central.
Others are Senator Shehu Sani (APC Kaduna Central) for North West and Ben Bruce ( PDP Bayelsa East), for South South.
The decision followed a motion moved and debated to that effect on the floor of the Senate yesterday.
In the motion sponsored by Senator Chukwuka Utazi (PDP Enugu North) and others, Senate bemoaned the horrendous carnage the herdsmen recently carried out in Nimbo community of Uzo-Uwani Local Government Area of Enugu State where about 38 people were gruesomely murdered and over 100 others severely injured aside countless number of houses and other property set ablaze.
It declared that such development were unacceptable and further resolved among others that security agencies in the country should improve their intelligence – gathering capabilities for them to be pro- active rather than reactive to the incessant threats to internal security in the country.
Senate urged security agencies to enforce the laws on arms bearing by unauthorized persons in the country and called on the Nigerian Police to expedite action on the establishment of a Rapid Response Police Unit around the communities where the attacks take place.
It also urged the National Emergency Management Agency (NEMA) and other relevant agencies to urgently dispatch relief material to Nimbo Community and other neighboring communities of Nkpologu, Uvuru, Ugbene- Ajima and Adani to ameliorate the living conditions of the victims of the attack who have become Internally Displaced Persons (IDPs).
Utazi in his submission while moving the motion said Boko Haram may be a child's play to the current Fulani Herdsmen attacks if decisive action is not taken against them by government and people at all levels.
He called for introduction of community policing across the country as a prelude to establishing state owned police services later which he said, would be more on ground across the various communities in the country in tackling such internal attacks.
According to him, "the rate at which the regularity and audacity of the attacks are taken place in different parts of the country in recent time, Nigeria may be sitting on keg of gunpowder if not urgently curtailed by relevant authorities in the land".
Senators who contributed to the debate condemned in strong terms , the Fulani herdsmen menace with some of them like the Olushola Adeyeye ( APC Osun Central), calling for establishment of State Police for more security surveillance at the grassroots.
But the Deputy Senate President, Ike EKweremadu who presided over the session, said the ad- hoc committee set up would surely come up with needed solution to the problem.
He said: "We have said so much regarding this very matter. We have to do this because to the ordinary people of Nigeria, what they know is that we are all in government. There is no difference between the Executive, Legislature and the Judiciary. So, we are all held responsible in issues such as these.
"I believe it is important that while the Executive is also making efforts, as parliamentarians, we must be seen to be doing something because the people see all of us as being part of government. We must show some sensibility in matters concerning our people.
"There are too many men and women in Nigeria today who are frustrated by economic realities and they will make themselves available for any possible mishap that this will give rise to. I believe that the earlier we nip this on the bud, the better for all of us.
"We want a very peaceful country and we will need to work towards that. And as leaders, we must be held responsible if there is breakdown of law and order because the primary purpose of government is the protection of lives and properties of the ordinary people. We must be able to come up with immediate approach to this problem, mid-term and long-term solutions so that people will see that we are interested in their welfare".
Please follow and like us:
Short URL: http://www.africanexaminer.com/?p=32236