Group Storms Interior Ministry, Demands Moro's Removal
Featured, Latest News
Tuesday, March 25th, 2014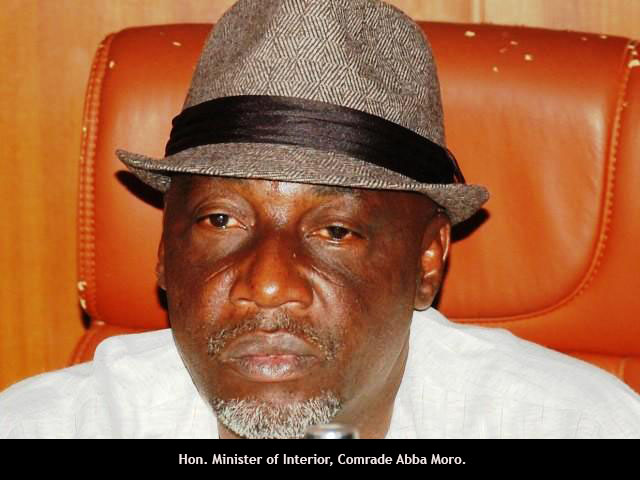 A group of concerned citizens of Nigeria under the aegis of Abuja activists flooded Ministry of Interior on Tuesday demanding for immediately removal of the Minister of Interior, Abba Moro.
The protest followed the recent lost of lives of nineteen young Nigerians at the last Immigration recruitment exercise nationwide.
They painted the front of the Ministry red representing the 'blood' of innocent Nigerians that died of stampede during the recruitment excise supervised by Mr Boro.
Although, the youths were prevented by operatives of Civil Defense Corps, Immigration Service and Prisons Service, the youths wrote with red paint in the front of the Ministry, 'murderer' and chanting the same as they were being dragged, beaten and maimed by the civil defenders.
The leader of the group, Azeenarh Mohammed, while addressing journalists called for 'immediate sack of the Minister and probe into the incident', she said.
"If you clean the blood in your hands but not the one we have just done today, we will be coming here every week to repaint this frontage red' she concluded.
Another group who called themselves students Union, represented by one Etuk Bassey, who paraded himself as former NANS president condemned the protest saying their 'protest lacks merit as they are few in number, and was politically sponsored'.
Four journalists were attacked; a phone belonging to a foreign reporter was smashed by a civil defense officer whose name tag was covered.
Also a TV camera was seen to have been dragged with the cameraman by an Immigration officer, a Thisday reporter assaulted by the group who condemned the protest.
The group who called 'students Union' who claimed that their presence at the scene was coincident, were latter seen coming out of the Ministry after about 45 minutes of the protest.
The Minister was said not to be around to respond to the yearning of the concerned youths.
Please follow and like us:
Short URL: http://www.africanexaminer.com/?p=9491