50 Killed, Several Injured In Fatal Explosion In Parkistan
Featured, Latest News, World News
Sunday, March 27th, 2016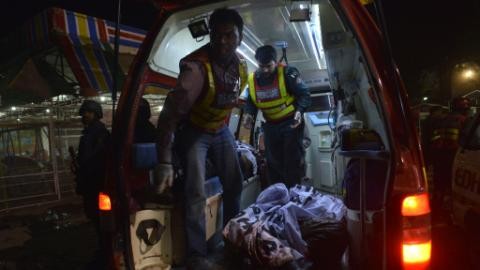 No fewer than 50 people Sunday evening were killed and several others injured, in an explosion which rocked a park in the eastern Pakistani city of Lahore.
Officials indicated that the bloody incident occurred when the park was crowded with families.
While no group has claimed responsibility for the incident, speculations have it that the Christian families who were out for the Easter festivity might be the target.
Source also indicated that the explosion appeared to have occured at the main gate of the Gulshan-e-Iqbal park, where cars are usually left and which is a short distance from the children's swings.
A Senior Local Police Officer disclosed most of the victims were women and children. Eyewitness account also indicated that there was chaos, followed with a stampede, leaving children to be separated from their parents in a spirited bid to escape.
Major hospitals in the area, according to local media, have been put on an emergency footing.
Lahore is the capital of Punjab, the Pakistan's largest and wealthiest province as well as the political powerbase of Prime Minister, Nawaz Sharif.
Meanwhile, Pakistan's President, Mamnoon Hussain has strongly condemned the explosion and subsequently announced three day of mourning.
Short URL: https://www.africanexaminer.com/?p=31280