Brazilian Women Turn to Prostitution For The World Cup
Latest News, News, Sports News
Thursday, June 12th, 2014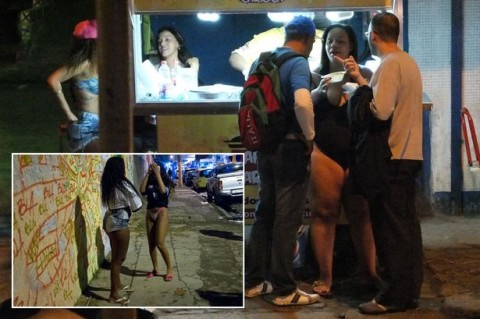 Prostitutes working in Brazil's biggest red light district are offering World Cup "specials" to foreign fans, just in time for the Greatest Show on Earth.
As the tournament finally arrives in the spiritual home of football, around 4,000 girls in Rio's Vila Mimosa – or the City of Tender Love – are ready for a huge invasion of punters from the 32 competing nations.
Many see England Three Lions supporters as a source of extra income, and some have even signed up to the trade especially for the competition.
The country's biggest collection of brothels stands little more than a mile from the famous Maracana stadium and six miles from Copacabana beach.
Flags are out, the girls are in tiny football bikinis, thongs and England tops and fast food vendors and kebab stalls are ready to cash in on visitors.
The working girls offer half an hour of sex for 60 Real – just £16 – with many convinced they can book a passport to a better life with an Englishman.
Campaigners have warned that people traffickers promise to sweep women off to the UK only to enslave them as prostitutes again 5,000 miles from home.
For the World Cup, the girls are offering a cut-price 100 Real – the equivalent of £26 – for an hour in an upstairs boudoir with just a bed and a bin.
It is illegal to pimp a prostitute or to operate a brothel, so the bars of Vila Mimosa are used as a front to hide the back-street sex dens.
Girls lean out onto the streets as lines of punters arrive by taxi, scooter or on foot. Thumping music blasts out with tiny dance floors inside. And outside there are dark, dank alleys decorated with the Brazil colours and flags.
Wearing a dark blue England shirt, mum-of-two Mel, 20, says: "I would love to meet a man from England, I wish to broaden my outlook.
"I became a prostitute three weeks ago. I know there will be a lot more customers for the World Cup. I use the money to support my family, pay the rent, the bills.
"We are waiting for the English, I cannot speak their language, but I will communicate with the way I know best.
"I will charge them the same rate for half an hour, 60 Real, but 100 for an hour because they have come a long way."
Mel's 22-year-old cousin Suelen is a mum of one who goes by the street name "Chocolate".
Dressed in a white England shirt, she says: "I can't wait for the World Cup to begin to meet all these lovely new men from Europe – especially London. Of course I want Brazil to win, and I know it is going to be busy.
"We have brought in some extra staff and there are decorations to attract the customers and street vendors."
Suelen has only been living in the city for six months and says she moved to Rio for work. She says of Mel: "We are cousins, and it is our way of making a living. We have five to six clients in one shift, it just depends on how busy we are.
"I don't have time to learn English, but I expect to double my wage.
"It is usually around 1,500 Real a week (the equivalent to £400). It should be far more during the World Cup. But I don't think we will put up our prices."
Vila Mimosa is next to a slaughterhouse and meat market, and behind the main street is a warren of alleys where girls ply their trade.
All the 100 bars in the area have numbers, with Mel and Suelen working in 62 on a long shift that runs from 8pm to 8am. In the street outside the bar, vendors cook a black bean and beef soup, while punters are also offered a Mocoto "aphrodisiac" brew made from a boiled cow's foot.
The district has been running for 16 years, though attempts have been made to make it more respectable for the four-week festival of football, with outside barbecues, bunting and TVs in bars.
With the average national wage less than £200 a month, the working girls can earn up to four times that. On the main thoroughfare at the heart of the red light district, women in various states of undress pole dance or pose provocatively for long lines of passing punters.
Here there is none of the traditional Brazilian pageantry of the carnival, nor the glitz and glamour of the expensive World Cup opening ceremony.
Instead it is burger vans, seedy strip joints and nightclubs with the tiny rooms used for sex hidden away.
Cleide Almeida, a social worker with the Association for Residents and Friends in Vila Mimosa, says she expects trade to double to around 10,000 men a day during the month-long event.
Around 120,000 prostitutes operate in the state of Rio. It is legal in Brazil for women over the age of 18 and there are even working "girls" as old as 77.
Short URL: https://www.africanexaminer.com/?p=12469