Cristiano Ronaldo Wins UEFA Europe Best Player Award
Featured, Latest News, Sports
Wednesday, August 24th, 2016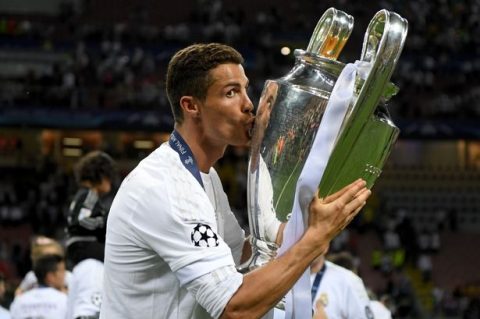 …as the new Champions League match calendar out
BALTIMORE, MD (AFRICAN EXAMINER) – Real Madrid and Portugal forward Cristiano Ronaldo has again emerged the winner of UEFA Best Player in Europe Award.
Winning for the second time, the 31-year-old striker defeated club-mate Gareth Bale and Atlético Madrid striker Antoine Griezmann to clinch the award he first won in 2013/14 season.
Full results indicated Cristiano Ronaldo (Real Madrid/POR); Antoine Griezmann (Atlético Madrid/FRA) 8 and Gareth Bale (Real Madrid/WAL) 7.
The process to arrive at the final judgment included journalists from each of UEFA's 55 member associations providing an initial list of their five best-ranked players, with the first receiving five points; the second four, and so on.
According to UEFA official website, 10 players with the most points advanced to a second round of voting, which determined Ronaldo, Bale and Griezmann as the final three.
In a live poll during the UEFA Champions League group stage draw, the same 55 journalists then selected their favourite from the three-man shortlist via an electronic system.
Meawhile, UEFA has released its 2016/17 Championship League Match Calendar. The full match schedule is found below:
016/17 UEFA Champions League match calendar
28–29/06/16: First qualifying round, first leg
05–06/07/16: First qualifying round, second leg
12–13/07/16: Second qualifying round, first leg
19–20/07/16: Second qualifying round, second leg
26–27/07/16: Third qualifying round, first leg
02–03/08/16: Third qualifying round, second leg
16–17/08/16: Play-off round, first leg
23–24/08/16: Play-off round, second leg
13–14/09/16: Group stage, matchday one
27–28/09/16: Group stage, matchday two
18–19/10/16: Group stage, matchday three
01–02/11/16: Group stage, matchday four
22–23/11/16: Group stage, matchday five
06–07/12/16: Group stage, matchday six
14–15/02/17 and 21–22/02/17: Round of 16, first leg
07–08/03/17 and 14–15/03/17: Round of 16, second leg
11–12/04/17: Quarter-finals, first leg
18–19/04/17: Quarter-finals, second leg
02–03/05/17: Semi-finals, first leg
09–10/05/17: Semi-finals, second leg
03/06/17: Final (National Stadium of Wales, Cardiff)
Short URL: https://www.africanexaminer.com/?p=35142