Fashola To Sambo: You're Ignorant, Diabolical Over Your Comment About Lagos
Featured, Latest News
Wednesday, December 31st, 2014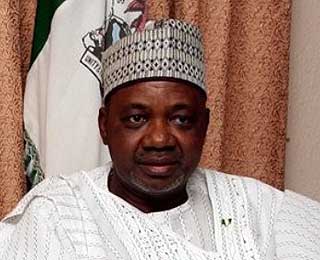 Ayo Baogun, Lagos – For making comment that people are running away from Lagos State because of heavy taxation, Governor Babatunde Fashola says Vice President Namadi Sambo is simply displaying ignorance and acting diabolically for such statement.
The governor spoke on Wednesday at an end of the year press conference in Lagos, saying that it was sad that Sambo, who is the Chairman, National Economic Council, could make such a spurious and unverified statement about Lagos, which clearly showed his ignorance.
"I sincerely want to believe that the vice president was misquoted. If it was true, it was a display of ignorance because how did he justify the perception that people are leaving Lagos. Is the VAT collected from Lagos being reduced compared to other states? Is the air traffic into Lagos reducing? Or have you seen a significant reduction in Lagos traffic?
"Has the water demand in Lagos reduced? Or has the demand for hospital services reduced? More hotels are being built in Lagos. Companies are licensing and operating in Lagos. Displaced persons from other parts of the federation are moving to Lagos. It is very grave statement to make.
"That is why I hope he was misquoted because that is the Chairman of National Economic Council. If he misunderstands what is happening in the economic capital of the country, it may be a revealing index into their understanding of the country's economy. It may also confirm to you some of the things you heard from the president that he received contradictory advice. Maybe, this is part of it," he said.
According to Fashola, Sambo's comment, "is a very dangerous statement to make. It is either ignorant or diabolical. Either ways, it is not good because it tells you why the economy is not functioning if the Chairman of National Economic Council made such statement."
On rebasing, Fashola said the rebasing of the country's economy showed that there were certain things that were left by the central government, saying that the apex government came up with the rebasing to cover up what it failed to do some years back.
He stated that since 2008, the state government had been updating its Gross Domestic Product (GDP), saying that maybe perhaps what led to the rebasing of the country's economy by the Federal Government.
"We are the biggest, yet we are importing food. Then what was the importance of the rebasing of the country's economy, if all the sector of the economy were yet to be functioning effectively. For Lagos, we had international rating from several international rating agencies, so we could not just release any data," he said.
On the missing oil funds, Fashola explained that the fundamental issue is public accounting and accountability, saying that "at least, we have a fair idea of how much per quota of oil production and sale as a member of OPEC. So, it is not difficult when the price of oil is disclosed to know how much is sold and how much is accounted for.
"The story about missing money did not come from outside the federal government. It came from within the government. One department of government said another department had not remitted what it was supposed to remit. This tells us how dysfunctional things may be. In the aftermath, we first had $49.8 billion.
"We later had $10 billion. The latest figure is $20 billion. The real issue should be: should one cent be missing if there is accountability and transparency? If they cannot agree, it raises issue of public trust and capacity. Already, an audit is being conducted. Normally, that is what should be done in the case of financial impropriety."
The governor said allegations "are often made really and they need to be investigated to see if there is substance in it. But there is a loud silence about the outcome of the audit. We heard the report has been submitted. Just like you, I wait to hear what happened and it will be pleasing to know what the report of the audit is."
Short URL: https://www.africanexaminer.com/?p=21193