Fashola's Office Shut As LASU Part-Time Students Protest
education, Featured, Latest News, News
Monday, September 15th, 2014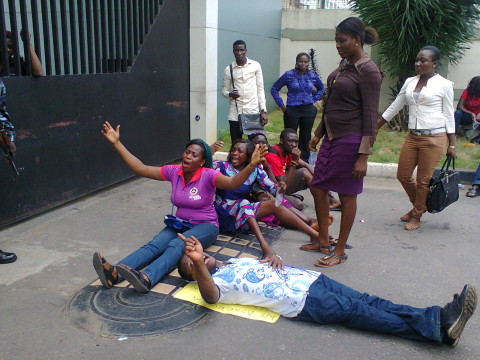 Ayo Balogun
The crisis facing the Lagos State University (LASU) is far from being over as hundreds of part-time students of the school stormed the office of Governor Babatunde Fashola protesting the shoddy manner the external campus system of the school is being run.
The students stormed the governor's office around 12.00pm on Monday and demanded to see the governor as only him could address their flights. The lamented that many of them had not seen their results for a long time as well as, with many of them exceeding their graduation period.
The students prevented vehicles from gaining entrance to the governor's office as they sang solidarity songs and danced frenzily at the entrance which was shut as a result of the protest.
Armed with placards which read: "Our future, our life, Fashola help us," "Academic excellence with future, APC, we are not happy," "education is a right, give us good education," and several others, the students accused the management of the LASU External School of toying with their future.
Some of the students said they were in 500 level and had not seen any of their 100 level results, while some said they the school used one year to run a semester as others complained that examinations were set for them in particular courses without the lecturers appearing for lecture once in the semester.
Some others said they were in 300 level and had not admission letter, while some added that even when they graduated from the school, they would not see their results for years.
Mr. Abolaji Azeez, Speaker, Students Representative Council of the LASU External School, LASUES said since 2012, LASU has only conducted three examinations, adding that the students who gained admission in 2008/2009 set were still in 500 level first semester when their five years academic studies should have been concluded in 2012/2013.
He said the students had been complaining bitterly over undue increment in school fees and demanding that the fees be reduced from N68,700 to N38,700 for 500 level students; reduction from N75,700 to N45,700 for 400 level students and reduction from N85,700 to N65,700 for 300 level students.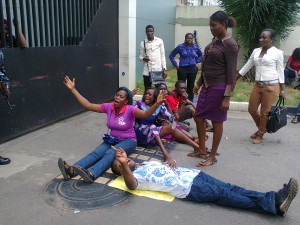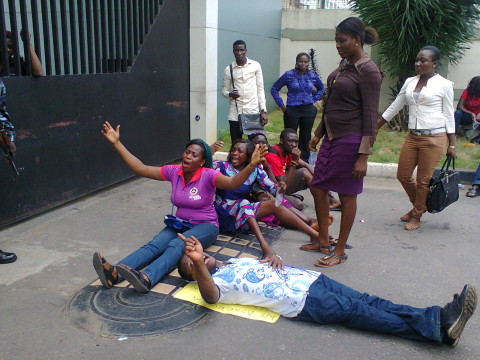 Azeez decried the non-issuance of exemption letters to part time students after graduating from the school, adding also that it was only LASUES students could not calculate their Cumulative Grade Point Average, CGPA, as their results were not released as at when due.
He alleged mass failure and fraudulent practices in the university, saying that there is 95 percent failure in all the 10 campuses run by the university, adding that less than 5 percent of the cumulative 40,000 student  population  record passes  each time they sit down to write exams.
The students who have itemized a lot of demands said a large number of students have no admission letters even after they have been issued matriculation numbers, saying that there are instances where two students share the same matriculation numbers.
According to Azeez, the students admitted into the school between 2009 and 2011 were yet to be issued admission letters, adding that "This is indeed alarming and some students do not want to wake up one morning to the harsh reality that they were never recognized students of the school."
The protesting students said that there is practically no lecture in any of the campuses, adding that when exams were written, results were delayed unnecessarily even when the system had changed to multi-choice questions.
They said that the result is inability of students to calculate their cumulative grade point average value, alleging that the management of the school charged fees for student identity card while graduate were not mobilized for National Youth Service Corps  (NYSC).
The students were in addition demanding for reduction in tuition fee from N68, 700 to N38,700 for 500 level, and N75,700 to N45,700 for students in 400 Level and N95,700 to N65,700 for those in 300 Level.
Miss Omobolanle Bakare, a 500 level student said she had not seen the results of 25 of her courses and that their lecturers were not teaching them and yet set examination for them to write.
"I am now in 500 level having spent seven years in the school. I have not seen the results of 25 of my courses. I have not even seen all my 100 level results. They are not organised and yet, they are collecting money from us," she decried.
Short URL: https://www.africanexaminer.com/?p=17454