Israeli Military Destroys Longest Tunnel In Gaza Strip
Asia, Latest News, Politics, World News
Sunday, April 15th, 2018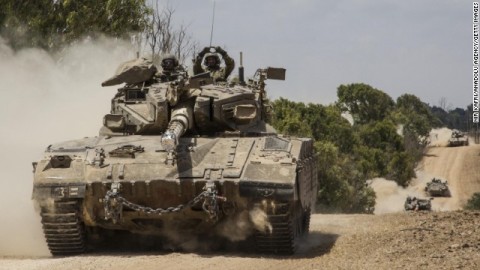 (AFRICAN EXAMINER) – The Israeli Military claims it has disabled a major tunnel dug by militants which reached into Israel from the Gaza Strip.
Defence Minister Avigdor Lieberman said the channel was the longest and deepest tunnel of its kind Israel had discovered.
A Military spokesman Lt Col Jonathan Conricus said the tunnel had been dug since the 2014 Gaza war, when Israel destroyed over 30 tunnels which it said were meant for attacks.
Israel is using sophisticated measures to thwart tunnels dug by militants.
Lt Col Conricus added that the tunnel had been dug by Hamas and began in the area of Jabaliya in the northern Gaza Strip, stating that it penetrated several metres into Israel in the direction of Nahal Oz, without an exit.
He indicated that he tunnel stretched "several kilometres" into Gaza and connected with other tunnels from which attacks could be launched, he said.
The Military informed that It was the fifth Gaza tunnel to be destroyed by the Israeli military in recent months.
It is said that some of the tunnels have been allegedly built by Palestinian militant group and others by Hamas
It would be recalled that since last year, Israel has been using special equipment to detect the presence of tunnels, and is building a hi-tech barrier above and below ground along its border with Gaza to prevent new tunnels being dug.
Short URL: https://www.africanexaminer.com/?p=43390