Nigerians React As Pastor Adefarasin Advises Church Members To Seek Better Life Abroad
Featured, Latest News, News Across Nigeria, News From The State
Monday, May 10th, 2021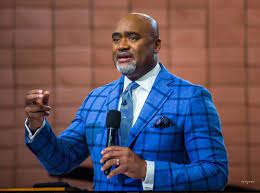 (AFRICAN EXAMINER) – The statement made by the Senior Pastor of the House on the Rock Church Lagos, Pastor Paul Adefarasin, advising his church members to get a plan B as sparked social media reactions.
African Examiner writes that the cleric gave the advice on Sunday, May 9, when he spoke extensively on the state of the nation.
Adefarsin said: "No country in the world history has survived two civil wars. You could be in fright and be running for your dear life, any day from now if this thing does not come to an end. My personal encouragement to leaders and government on all sides is that it is not time to be partisan, blend the aisles. It is time to sit down and dialogue."
Speaking further to his church members, the clergyman enjoined them to have a plan B as his wife is currently out of Nigeria helping to create their own plan B
He said: "I bring you greeetings from Pastor Ifeanyi who is busy taking care of the frontier of our world and preparing our escape root. If you don't have a plan B. …I know you have faith, but I have faith too but I have a plan B.
"With technology I can speak to you from anywhere in the world.
"Get yourself a plan B. Whether that's an Okada to Cameroon or flying boat or speed boat as we call them to Seme Border or a hole in the ground, get your plan B because these people are crazy. They ate nutters. The whole bunch of them. And watch the signs because it can happen like this. God forbid!"
The statement made by the cleric has since sparked social media reactions as Nigerians took to the micro-blogging platform to comment on the issue. African Examiner gathers some of their thoughts below:
Prince Chinecherem@PrinceChineche4 writes: "Garba Shehu (Presidency) will soon Call Pastor Paul Adefarasin unpatriotic citizen that his statement is a call for War/Anarchy and is an Attack to Buhari Some Brainwash youth from North go soon say is an attack to the north."
Sọ̀rọ̀ sókè Generation @IBITAYO_MARTINS writes: "After seeing that u are an APC member,I could see why u are talking like this which is good. But this your word can't help my people in ogun state who fled to Benin republic because of insecurities in the country. Even a blind man knows that pastor paul Adefarasin is being real."
Raymond #JusticeforOmolara #JusticeforPelu@IamTheIroko writes: "That message from Pastor Paul Adefarasin is an admission of the failure of govt completely… Instead to attack him I hope those in authority take a deep look at their failure and do the right thing."
Oserz@Oserz writes: "Pastor Paul Adefarasin made mention of having a plan B, don't forget as a Nigerian, your plan B should have a plan C and even D……E get why."
Obong Ekpe {Daddy Jason}@Johnson_Ody writes: "What Pastor Paul Adefarasin is saying isn't different from what I said some weeks ago.. Have a fucken Plan B, don't wait until it's too late. Make findings on how to get black market equipment that you'll use for self-defense if you don't have any yet."
Unu Amaro Kam Siri Kwado@AfamDeluxo writes: "Pastor Paul Adefarasin advising Nigerians to get a plan B. I have been saying this for months, but some of you come to my Dm and call me an alarmist. Ndị Igbo sị na Nkwucha dị mkpa abụghị ujo.. Onye ọbụna jee kwado onwe ya."
Dayo@holadhayor1 writes: "Pastor Paul Adefarasin is saying the truth! Its only witchcraft that would make anyone attempt to counter him."
Nna Anyi ARMANII@99armanii writes: "Southwest BMC are already digging on Pastor Paul Adefarasin."
Omawumi O@ormainy writes: "Pastor Paul Adefarasin says the things many are thinking but can't say. He said many important and very critical things about the state of the nation yesterday before his message. Sad that people only picked the joke of plan B but I'm happy with the conversation. Naija needs help."
Olabanji Omoh@TALLASHIP writes: "I hope a lady will not come out tomorrow to claim Pastor Paul Adefarasin raped her 20 years ago as him don advice church members to escape Nigeria."
Apostle Chris Omashola, ACO@PastorOmashola writes: "Pastor Paul Adefarasin is wrong for calling on Nigerians to flee this country, that's a very careless statement from a Man of His Calibre. We have no other country to call our home, or to be enslaved in another Man's Land or what? We must STAND STRONG and WIN our NIGERIA BACK."
Short URL: https://www.africanexaminer.com/?p=62705