Nyanya Bombing: Interpol Arrests Abubakar Ogwuche In Sudan
Featured, Latest News
Wednesday, May 14th, 2014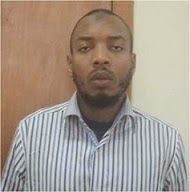 The Federal Government of Nigeria on Wednesday evening announced the arrest of Abubakar Sadiq Ogwuche, one of the masterminds of the Nyanya bombing which killed about 80 persons and leaving 60 persons  wounded.
The Directorate of State Security while parading five suspects of April Nyanya bomb explosion On Monday, announced a sum of N25 million for anybody with useful information that could lead to arrest  of Ogwuche and the main mastermind, Rufai Abubakar Tsiga.
On Tuesday, International Police (Interpol) issued a warrant of arrest on the man, who was said to be hiding in Sudan.
Directorate of State Service (DSS) spokesperson Marylyn Ogar during the Monday briefing, paraded five suspects in connection with the incident. They include Ahmad Abubakar (aka Abu Ibrahim/Mai Turare), Mohammed Ishaq, Yau Saidu (aka Kotar Rama) Anas Isah and Adamu Yusuf and all confessed to being privy to the plot to bomb Nyanya.
At the daily briefing of the National Information Centre on Wednesday however, the Director General of National Orientation Agency (NOA), Mr. Mike Omeri, announced that Ogwuche had been arrested in Sudan and is awaiting extradition home to face charges.
The arrest was through the collaborative efforts of Interpol, DSS, Nigeria Police and the Military Attaché to the Nigerian High Commission in Sudan.
Ogwuche, who is a student of Arabic Language at the International University of Africa, Sudan, is a British born Nigerian who deserted the Army in 2006 with service number  SVC 95/104.
He served in the Intelligence Unit of the Nigerian Army at Child Avenue, Arakan Barracks, Lagos, between 2001 and 2006.
Ogwuche was allegedly involved in terrorist activities leading to his arrest at the Nnamdi Azikiwe International Airport, Abuja on Nov. 12, 2011, on arrival from the UK.
However, he was released on bail to his father, retired Col. Agene Ogwuche on Oct. 15, 2012, following intense pressure from activists who alleged human rights violations.
DSS spokesperson Maryln Ogar while addressing Journalists on the arrest said, "We should be happy that wherever a criminal is hiding, he will be fished out. Even if Nigerians would hide him others will fish him out. These terrorists live in our midst and we know them. The world is a small place now."
Omeri disclosed that international operations to rescue over 200 girls kidnapped by Boko haram have entered a full swing, but he did not give details.
He refuted insinuations that academic activities in the North Eastern parts of Nigeria have been completely paralysed, and explained that schools in dangerous areas were shut while the pupils were merged with other schools with adequate security provided.
Commenting on the inability of government to rescue the girls after one month in captivity, Omeri said it was not a peculiar situation.
"When Americans were held hostage in Iraq, even though America knew where they were being kept, it took 200 days for them to be rescued. We do not even know where these girls are. We will rescue the girls but it will not take 200 days", he assured.
Short URL: https://www.africanexaminer.com/?p=11392