Pop Star, Rihanna Bids to Buy Liverpool
Featured, Latest News, News, Sports News
Tuesday, August 12th, 2014
Pop star Rihanna is ready to invest in a Premier League club with the Liverpool her team of choice.
Chris Brown's ex has been advised to buy Liverpool by her close friend and Chelsea star Didier Drogba.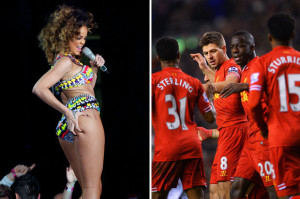 While it seems highly unlikely Liverpool's current owners – the Fenway Sports Group – would sell given the Reds impressive form last season, the prospect of Rihanna sharing a seat in the directors' box with Newcastle chief Mike Ashley is pretty amusing.
Anfield is famous for its renditions of You'll Never Walk Alone but if the 26-year-old has her way Steven Gerrard could soon be leading his team out to Unfaithful or We Found Love instead.
The Caribbean beauty is also keen to start her own footballing academy in Barbados.
It is unlikely Liverpool's fans will be pleased about Rihanna's rumoured takeover
"At first we thought Rihanna's desire to be involved with soccer on a business level would soon blow over," a source close to the singer said.
"We figured she was still on a high from the World Cup.
"But now it's becoming clear she really is serious. She's talking about setting up a football academy in her native barbados.
"Then her big dream is to be involved with a UK club."
After Germany's win over Argentina in the World Cup final Rihanna was pictured holding the coveted trophy.
"I touched the cup, held the cup, kissed the cup," she tweeted.
"Took a selfie wit the cup!!! I meeeaan…… what is YO bucket list looking like brush?"
Short URL: https://www.africanexaminer.com/?p=16110