Pro-Jonathan Group Holds Rally At Chatham House, London
Latest News, News, Nigeria 2015 Election, Politics
Thursday, February 26th, 2015
The City of London became cynosure of eyes across the globe Thursday as the two leading political parties, the opposition APC and the ruling PDP, took Nigeria electioneering campaigns to the city.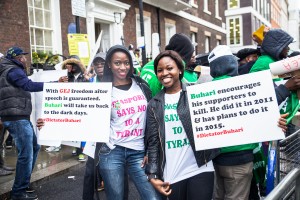 The Presidential Candidate of the opposition APC, Gen Mohammadu Buhari addressed an audience where he promised to save Nigeria's ailing economy.
But PDP supporters, operating under the Solidarity for Good Governance, United Kingdom chapter, held a solidarity rally for the re-election bid of the incumbent President Goodluck Jonathan.
The ruling PDP supporters trooped out in the early hours, drove through the streets of Saint James Square, which is also the Chatham House venue of the opposition APC Presidential Candidate's, lecture on "Prospects for Democratic Consolidation in Africa: Nigeria's Transition."
National Coordinator of the group, Dr Hakeem Idris, in his address, enjoined Nigerians to vote massively for the re-election of President Jonathan.
He said: "let's join hands to work for the victory and the unity of Nigeria".
He canvassed that Jonathan should be allowed to complete his transformation agenda.
Another participant and a nurse, Mrs Funke Adesida, held: "I have come out this morning because the only thing that can now make any difference to Nigeria is to unite together and support the President. This is a chance we do not want to miss at any cost".
Members of the PDP solidarity group displayed placards with various inscriptions such as: "we want Jonathan'', "no to Buhari'', "Buhari belongs to our past'' and "Diaspora says no to a tyrant'', Nigerians in the UK say no to the return of a tyrant and others.
Short URL: https://www.africanexaminer.com/?p=22448