Recession: Osinbajo Reiterates Moves To Diversify, Stimulate Economy
Featured, Latest News, News
Tuesday, August 16th, 2016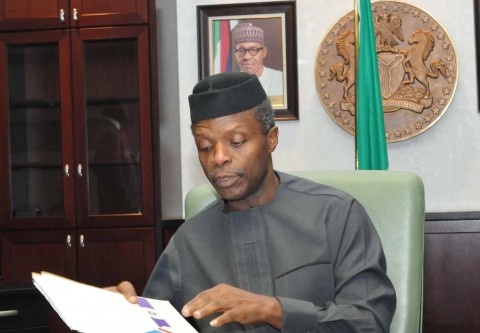 By Ganiyu Nasirudeen
ABUJA, NIGERIA (AFFRICAN EXAMINER) – Despite reiterating the bad state of economy which the present administration met, Vice President Professor Yemi Osinbajo has informed that the Federal Government (FG) has taken measures to stimulate the country's financial system.
Osinbajo made the disclosure Monday in Abuja during the inauguration of agricultural sector road map entitled "The Green Alternative: Agriculture Promotion Policy 2016 – 2020".
The VP recaped that President Muhammadu Buhari's government inherited an economy which was essentially in meltdown.
However, among the measures to make the economy bounce back to life, Pro Osinbajo hinted was the FG had conclusion with the Bank of Agriculture to commence giving out single digit interest loans to farmers in Nigeria before the September end.
Specifically, Prof Osinbajo announced that the Federal Ministry of Finance has also concluded plans to recapitalize and re-engineer the Bank of Agriculture.
Prof. Osinbajo lamented that the previous administration failed to invest on infrastructural development when the crude oil was sold for over $100 per barrel, as well as failed to deeply diversify the economy.
Osinbajo asserted that one of the components to put the economy on the right track was proper diversification of economy, indicating that the FG's road map identified two key challenges, among of which is inability to meet domestic food demand.
Another challenge identified by VP is the inability to export at the market required level. This, he added was informed by an inefficient system, weak inspectorate measures and poor coordination.
Prof. Osinbajo who noted it was gladdened that the road map did not erode the previous policy, also declared that it aligned with the present administration economic policies.
While restating that financing of agriculture was also a crucial policy, VP reasoned that with double digit interest rate at the moment, FG has developed some funding options on short term basis.
Minister of Agriculture and Rural Development, Chief Audu Ogbeh, in his address indicated that the road map was ultimately to ensure that FG checked the trend where over $22bn is spent in the country annually, on food and other items importation.
Short URL: https://www.africanexaminer.com/?p=34929