South Africa's Zuma Promises Economic transformation At 2nd Term Inauguration
Featured, Latest News
Saturday, May 24th, 2014
Oyewale Oyelola
South Africa President, Jacob Zuma has promised economic transformation in South Africa as he takes Oath of Office for another five years term.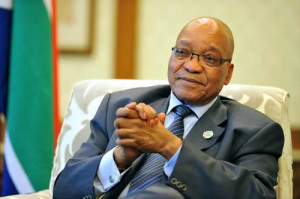 Jacob Zuma stated this in his second term inauguration address as South African President held at Union Building in Pretoria on Saturday.
Zuma, the African National Congress candidate in May 7, 2014 Presidential election was declared winner by Independent Electoral Commission of South Africa having polled 11, 436, 654 votes representing 62.16percent of 18,399,269 valid votes casted in the election.
According to him, his inauguration marks the beginning of second phase of transition from apartheid to national democratic society.
He said, "Today marks the beginning of the second phase of our transition from apartheid to a national democratic society.
This second phase will involve the implementation of radical socio-economic transformation policies and programmes over the next five years.
We have already placed before the nation, the National Development Plan (NDP), our road map which outlines the type of society we envisage by the year 2030."
The South African President stated that the NDP would focus development of communities where households will have access to housing, water, electricity, sanitation, safe and reliable public transport, health, education, security, recreational facilities, a clean environment and adequate nutrition.
"Economic transformation will take centre-stage during this new term of government as we put the economy on an inclusive growth path.
As the National Development Plan outlines, the structure of the economy will be transformed through industrialisation, broad-based black economic empowerment and through strengthening and expanding the role of the state in the economy.
State-owned enterprises and development finance institutions will become engines of development, complementing the State in promoting inclusive economic growth." He noted.
Jacob Zuma who was alleged of using $23million state fund to upgrade security facilities in his private residence, promised to eradicate corruption and improve efficiency in public service.
He added that, "Key targets in this regard will be to eradicate corruption and inefficiency in the public service. We will promote productivity within the public service and ensure much tighter accountability, with firm consequences where there is a failure to deliver services to our people."
Zuma urged people of South Africa to forget past (apartheid experience). by promoting unity, understanding and tolerance across race and colour lines, as we build a South Africa that truly belongs to all.
President of Nigeria,Goodluck Jonathan and other notable African leaders attended the inauguration.
Short URL: https://www.africanexaminer.com/?p=11734