Mysterious Baby Delivered With Beads From Womb
Featured, Latest News
Thursday, May 21st, 2015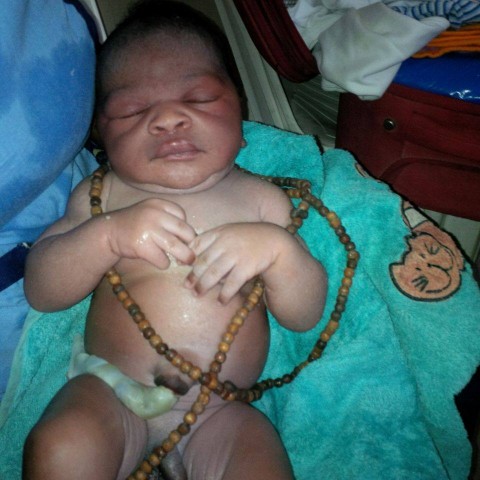 By Ayo Balogun, Lagos – A 24-year old woman has delivered a baby with beads from the womb 11 months after pregnancy at Isolo area of Lagos, Southwest Nigeria.
Father of the baby and staff at the Orinsumade Hospital, Isolo were stunned when they saw the baby came out of the mother's women with beads winding round its body bring fear and panic to them.
Mrs Sarah Akintunde, who had been pregnant for 11 months was rushed to the hospital on Blue Street, Isolo when conception seized her, as she delivered the baby with caesarean around 11.00pm on 4 May, 2015.
According to Akintunde, she was scared when she saw her baby boy came out with beads winding round its body as she had never seen such a thing in her life before, but that she later resign to fate and praised God for His wonderful work.
"I believe it is the Lord's doing, I was afraid when I saw it because I did not expect such. The baby is fine and he has this mark on his head too. I had normal delivery after 11 months of pregnancy," she said.
Akintunde, a business woman who lives at Block 16, Flat A, LSDPC Estate, Isolo said he baby was big when it was delivered as it was 4.3kg, praising God that it was not through caesarean despite the fact that she was 11 months pregnant.
Father of the baby, Sulaimon Akintunde, a 35-year old Muslim said that the beads on the baby was strange as it came with beads right from the womb.
"The delivery took place on Monday, 4 May, 2015 around 11pm at Orisunmade Private Hospital at Blue Street. The name of the doctor is Orinsunmade. The baby was born with beads on its body, I was there and I saw it myself," he said.
According to him, he was seriously afraid when he saw the baby and even asked the doctor what was happening.
"I have never seen such a thing like this before, I never believed my eyes when I saw it; it was scaring. I rushed out to call my elder brother and he came with me. I followed the doctor and asked him what was this and he said we are here together and how can you ask me that.
"The boy was delivered 11 months after pregnancy. My wife took in from March 19, 2014 and put to bed 4 May, 2015, almost 11 months after. The sign of the beads are still on baby's body.
"It is a miracle baby from God. I am not the kind of person that used to worship God like that. The fear of God caught me since them. The baby is healthy and we named him Ayatullah, meaning 'sign of God," said Akintunde, a staff of Oshodi/Isolo Local Government.
Short URL: https://www.africanexaminer.com/?p=23643