Why FG Is Suffering Nigerians With Fuel Subsidy Removal – Sowore
Latest News, News Across Nigeria
Thursday, January 5th, 2023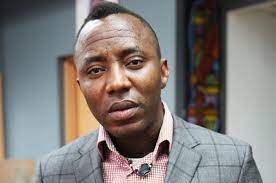 (AFRICAN EXAMINER) – The presidential candidate of the African Action Congress, Omoyele Sowore, has stated that the Federal Government is suffering Nigerians with the removal of fuel subsidy.
Sowore made this known Thursday in an interview on Arise TV as he responded to a question about his position on the removal of fuel subsidy.
He said: "Every country in the world was giving the best to their citizens. Norway has some of the best welfare for its citizens. Like free education, free healthcare. Nigeria is the only country at this level of oil producing stage that is punishing its citizens with the lie of oil subsidy. What has not happened is to have a leadership in place that can check the fraud."
Sowore claimed that many of the companies connected in the subsidy removal in Nigeria were "scammers".
"They've been proven to be scammers," he said, adding that many of them were facing international sanctions, especially those in Switzerland and other places.
"They have been made to pay huge fines to the United States Government when they are not even doing the kind of businesses they are doing in Nigeria," Sowore claimed.
"Even when you remove the subsidy, they will figure out a strategy again to come back and say they need more. They are holding the country by the jugular until their hands are being removed and have the country control the resources."
"Government should not exist to make life miserable for the citizen. It should exist to find solutions to problems that are afflicting the populace. Government should not exist for palliatives but for concrete leadership to bring about the planned development."
Short URL: https://www.africanexaminer.com/?p=84264