Zenith Bank, Public Companies Still Lead Efforts to Connect Africans to The Internet
Business News, Latest News
Saturday, July 23rd, 2016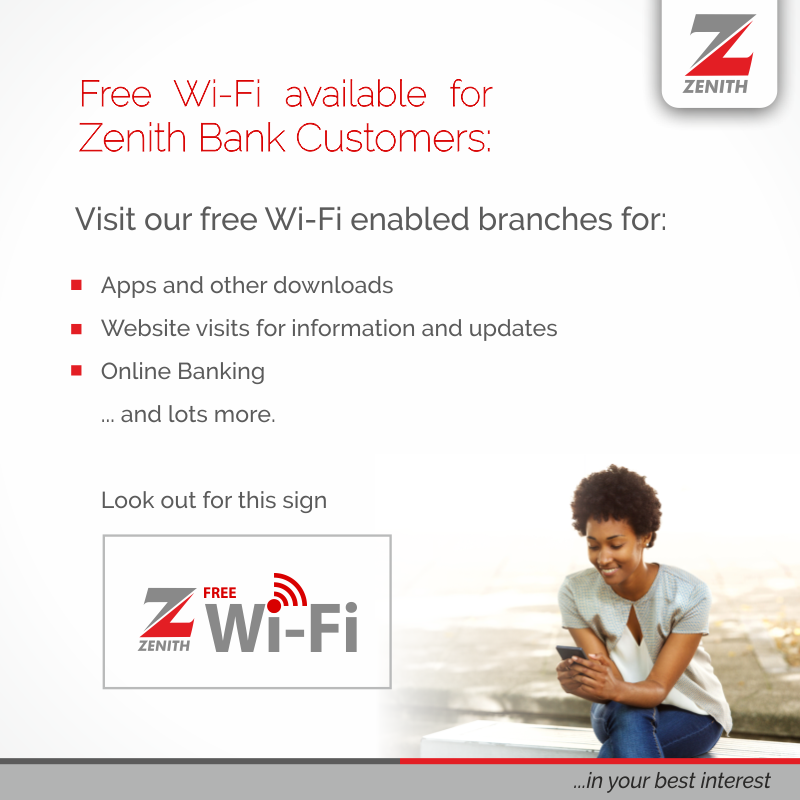 BALTIMORE, MD (AFRICAN EXAMINER) – As far back as 2012 a survey of more than 10,000 Internet users in over 20 countries conducted by the Internet Society found that 83% of respondents agreed with the statement that "access to the Internet should be considered a basic human right," so essential has the internet become to our everyday life.
Their findings also suggested that access to the Internet should not be unreasonably restricted and that governments have a responsibility to ensure that Internet access is widely-available. Of course, in developing countries particularly within Africa, there is little hope of people enjoying Government-provided internet access any time soon, as focus still remains on the provision of other necessities such as power generation, construction of roads and other distribution networks and promoting local industry growth.
The onus of providing Africans with internet has therefore rested on the shoulders of private/public companies for the last 10 years (and probably will remain this way for sometime into the future), who either have a business objective for keeping Africans on the internet or simply believe access to the web is now a necessity for everyone. This has influenced the actions of internet giants Facebook and Google, who are now undertaking huge capital projects to dignify Africa and ensure connectivity for everyone on the continent.
Zenith Bank Plc, one of Africa's leading financial institutions has also taken broad steps in this regard by rolling out free Wi-Fi at several of its branches nationwide, to enable people in close proximity perform a wide range of internet related activities such as app downloads, website browsing for information, online banking, online researching and lots more.
The Bank has also installed a wide-range free Wi-Fi hotspot covering the Lagos University Teaching Hospital (LUTH) and its environs, to avail its people within the hospital's vicinity with access to all the knowledge, tools and resources available online. The service is accessible by simply entering your Zenith Bank Account number. Visit www.zenithbank.com/wifi to view all Wi-Fi enabled locations.
It is expected that by providing free Wi-Fi, the Bank is providing its customers with a distinct competitive advantage in the way that only free internet access can, as they are now empowered to innovate without the constraints of data costs.
Zenith Bank, established in 1990, has remained at the forefront of innovative technologies for the last 26 years, championing the effort to make banking simpler and continually leveraging technology, its people and services to achieve that goal.
Short URL: https://www.africanexaminer.com/?p=34438